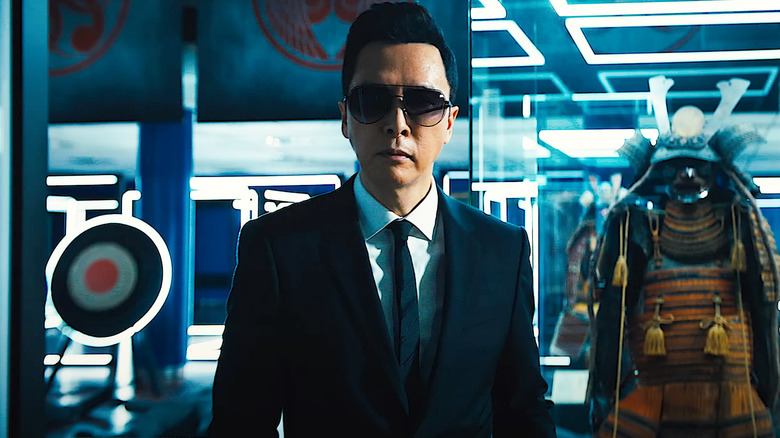 Soon, two of the biggest and most committed action stars will face off in "John Wick: Chapter 4." Hong Kong martial arts legend Donnie Yen is set to go up against Keanu Reeves' seemingly invincible hitman in a showdown that promises to be a highlight in a movie full of meticulously-crafted action. And despite being nearly 60 years old, Yen is as popular and limber as ever. He's also still passionate about his roles, maintaining a determination to go above and beyond, a trait he's possessed since his days spent working for Hong Kong kung fu director/choreographer Yuen Woo-ping.
The actor, perhaps best known for portraying the titular Wing Chun grandmaster in the "Ip Man" franchise, has always pushed himself. As a recent GQ profile recounted, coming up in the almost militaristic culture of Hong Kong cinema, Yen got used to pushing his limits when his Yuen clan of martial art performers had to work hard to outdo rival studios. Once he transitioned to Hollywood, that mentality followed, and stayed with him right up to his role as blind assassin Caine in "John Wick: Chapter 4".
Director Chad Stahelski previously revealed how the actor persuaded him to change the character from an "old, blind guy with a cane" to a "cool guy in a suit." And while that may seem like Yen was just trying to make his character more interesting, it turns out there's a lot more to it. Specifically, since playing blind warrior-monk Chirrut Îmwe in 2016's "Rogue One: A Star Wars Story," Yen has made a concerted effort to steer his Hollywood characters away from becoming Asian stereotypes.
'Why Does He Have To Be Called Shang?'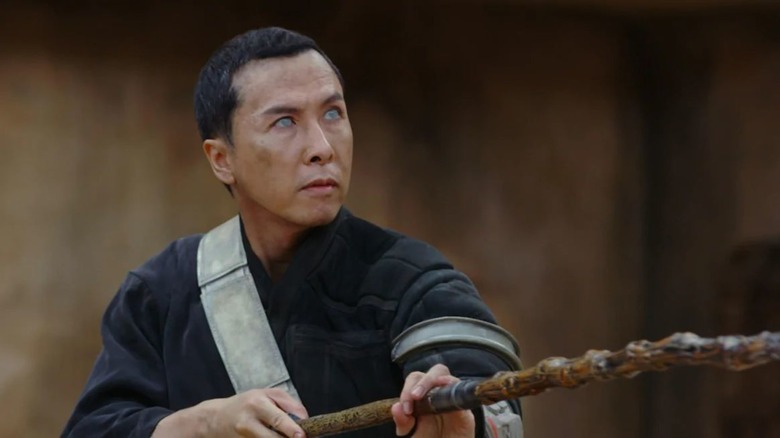 Donnie Yen spoke about regularly falling out with his mentor, Yuen Woo-ping, telling GQ, "As an outspoken person, I always questioned, 'Why do we do this? Why is it this way?'" That questioning nature followed Yen throughout his career, coming in handy once he noticed Hollywood's proclivity for playing up Asian stereotypes.
The actor recalled being asked to appear in "Rogue One: A Star Wars Story," his first major Hollywood role after being criminally underused in earlier films like "Blade 2" back in the early 2000s. But before he signed on to the "Star Wars" project, Yen was adamant that his Chirrut Îmwe character not become a stereotype. As he explained in his recent profile, "One thing I pointed out is he was a stereotype. Typical master. Doesn't smile." As a way to add more dimension to the staff-wielding warrior, Yen suggested he play him as a blind character with a sense of humor, allowing the actor to crack jokes while filming and, in turn, take a standardly stoic warrior character to new places.
It was this desire not to become a stereotype that pushed Yen to approach Chad Stahelski before filming "John Wick: Chapter 4." Rather than the "Ip Man" star simply wanting to wear a "cool suit," Yen explained:
"The name was Shang or Chang. Why does he always have to be called Shang or Chang? Why can't he have a normal name? Why do you have to be so generic? Then the wardrobe again — Oh, mandarin collars. Why is everything so generic? This is a John Wick movie. Everybody's supposed to be cool and fashionable. Why can't he look cool and fashionable?"
That was enough to convince Stahelski, who made Yen's changes with seemingly little to no hesitation.
Hollywood's One-Dimensional Action Roles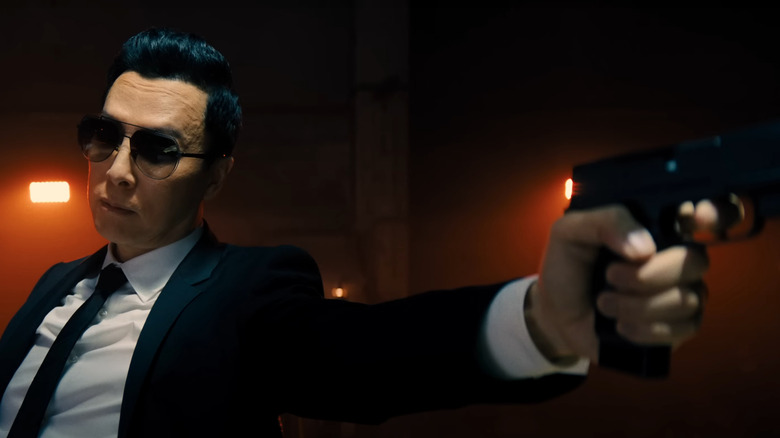 In fairness, Chad Stahelski doesn't seem like the type to willfully depict Donnie Yen as some sort of stereotype. The director is an unabashed fan of the martial arts legend — who clearly had a lot of fun filming "John Wick: Chapter 4" — and has spoken about wanting to do something different with Yen and Keanu Reeves' big showdown. Combined with Yen's determination to break away from stereotypes, Stahelski's respect for the actor's history and reputation in the industry should mean we get not just an interesting character in Caine, but some truly innovative fight choreography.
What's more, Yen's insistence on wearing "cool and fashionable" clothing recalls a request made by Alan Rickman after being cast as Hans Gruber in 1988's "Die Hard." Rickman had some notes on the "Die Hard" script which included a suggestion that his terrorist villain wear a suit rather than the generic military-style gear called for in the screenplay. The British actor got his way in the end, which just reinforces the fact that, when it comes to Hollywood action movies, characters have long been reduced to one-dimensional parts that function simply as an excuse to stage a huge fight. In Rickman's case, 'generic terrorist' provided enough in the way of an antagonist to give John McClane an excuse to shoot his way through Nakatomi Plaza. Thanks to Rickman's request, however, we got one of the best on-screen villains of all time.
Thankfully, in "John Wick: Chapter 4" Caine looks like a cool-as-hell character worthy of being played by Donnie Yen.
Read this next: The 18 Best Action Movie Actors Ranked
The post Donnie Yen Rewrote His Rogue One & John Wick Roles To Defy Asian Stereotypes appeared first on /Film.