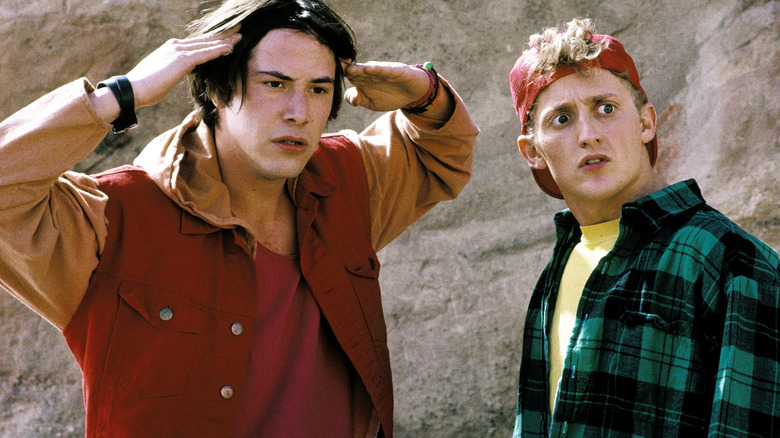 When looked at from the outside, the premises of the first two "Bill & Ted" movies are baffling. In the first film, the title characters (Alex Winter and Keanu Reeves) are a pair of slacker California dudes who are more interested in their band than in studying high school history. Randomly, a visitor from the future (George Carlin) appears in a high-tech, time-traveling phone booth and announces to Bill and Ted that their band will not only become successful, but that their music will become so profound as to unite humanity and usher in a new utopia. In order to form their band, however, they will have to pass an upcoming history exam and stay in school. The Carlin character gives them the phone booth, and they travel through time, viewing history in person through their particular slacker lens. In the sequel, Bill and Ted die and traverse the afterlife while robot clones take their place on Earth. It's all very high-concept.
If the premise sounds like the stuff of improv comedy and Groundling-style character sketches, that's because it is. Screenwriters Chris Matheson and Ed Solomon conceived of the Bill and Ted characters several years prior to writing their screenplay, using them as stage personae for post-college comedy performances. Matheson and Solomon met at the UCLA film school in 1983 and would perform together as Bill and Ted live. According to a 2020 retrospective via Rolling Stone, Matheson and Solomon workshopped the "Excellent Adventure" premise on stage, throwing two none-too-bright teens into the throes of history where they could dub something either "excellent" or "bogus."
Cinemas seemed to be calling for the pair, but not in the way one might think.
Kentucky Fried Excellence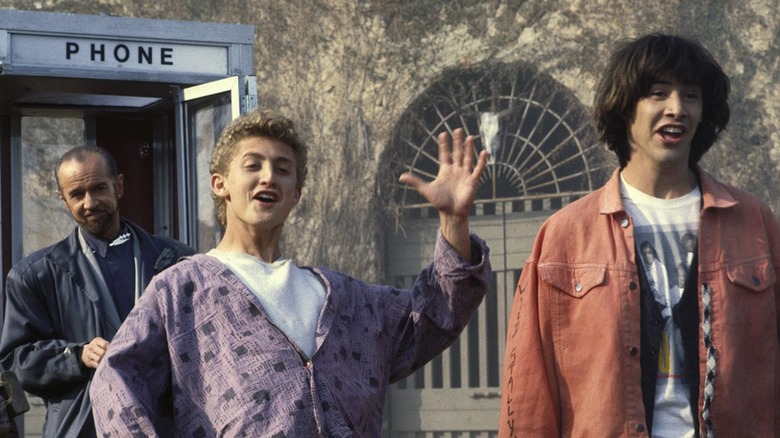 Seeing that Chris Matheson and Ed Solomon were used to performing Bill and Ted as one-note characters, that remained their ambition for a Bill & Ted feature film. They envisioned a sketch comedy program, along the lines of "The Kentucky Fried Movie" or "Amazon Women on the Moon" that would feature Bill and Ted merely reenacting their stage shtick in brief snippets peppered throughout a movie. It was under advice from Chris Matheson's father, Richard, that they would expand Bill & Ted into their own story.
If the name Richard Matheson is familiar to you, it's because he is one of the most celebrated sci-fi authors of all time. Richard Matheson wrote the novel "I Am Legend," which was adapted into "The Last Man on Earth," "The Omega Man," and the Will Smith film of the same name. He also wrote the surprisingly profound screenplay for the sci-fi classic "The Incredible Shrinking Man," the teleplay for the "Twilight Zone" episode "Nightmare at 20,000 Feet," and several of the amazing Roger Corman/Edgar Allan Poe adaptations in the 1960s. This was in addition to 100 short stories, several dozen novels, and many, many other teleplays. When Richard Matheson gives writing advice — and also, he's your dad —` you'd best listen.
Once Chris Matheson and Ed Solomon began working on a Bill & Ted feature film, however, their first idea was a little more wicked than the kid-friendly premise that ended up in the final film.
Bill & Ted's Bogus Causality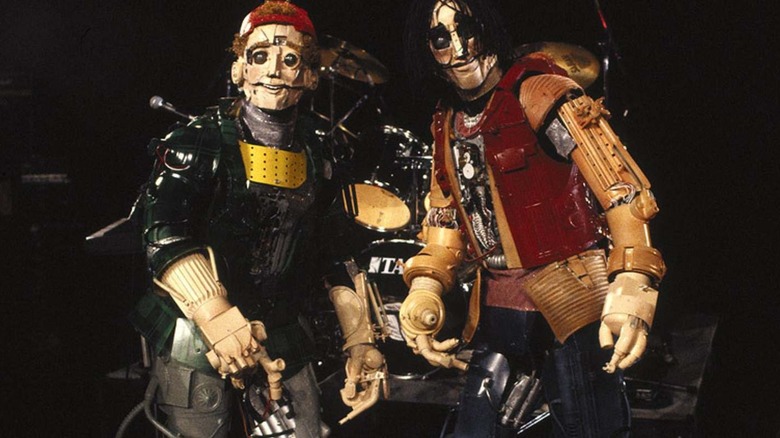 Rather than observe history and give it a stamp of approval as they did on stage, Matheson and Solomon's first notion was to have Bill and Ted, through their cluelessness, unwittingly change the course of history, often for the worse. Bill and Ted would be responsible for any number of notable historical cataclysms. Solomon said in the Rolling Stone retrospective:
"Chris and I then started really laughing about this idea that Bill and Ted would be literally responsible for all the bad things that happened in history. […] like the sinking of the Titanic, and Lincoln's assassination, and losing Amelia Earhart."
A funny premise to be sure, but lacking the sweet, good-naturedness of the characters. Bill and Ted may not be the brightest kids, nor even the most talented musicians. Still, they possessed a strong moral compass and were generally kind (their usage of a dated slur from the original film notwithstanding). The characters were so beloved, they returned for a sequel in 1991 and a second sequel in 2020 when they were in their 50s.
Matheson and Solomon made their name with the Bill & Ted movies, and have gone on to pen multiple high-profile studio comedy films, including the bizarre "Mom and Dad Save the World," the beloved-to-'90s-kids animated feature "A Goofy Movie," and the 2009 Eddie Murphy film "Imagine That," along with several others. The screenwriters have assured that a very particular brand of family-friendly weirdness persists in Hollywood, and that's an achievement in itself.
Read this next: The 15 Best Comedy Duos Of All Time
The post Bill & Ted Weren't Always Going To Be The Stars Of Their Own Movie appeared first on /Film.