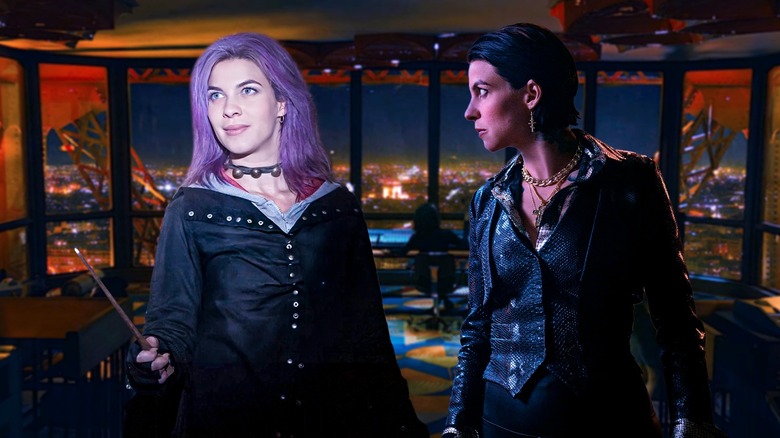 This post contains spoilers for "John Wick: Chapter 4" and the later "Harry Potter" films.
In "John Wick: Chapter 4," John Wick (Keanu Reeves) must reunite with his estranged family in order to finally rid himself of the High Table and remove the sizable bounty on his head. When he visits his family, however, he has a rude reunion with Katia Jovanovich, Wick's long-lost adoptive sibling who is played by none other than actor Natalia Tena. Clad in leather and covered in prison ink tattoos, Jovanovich is a leader of the Ruska Roma assassins last seen in "John Wick: Chapter 3 – Parabellum."
Tena is a veteran of several high-profile film franchises and blends into her new tough role so completely that it's a little hard to place her at first. She makes a lasting impression in the supposed final fourth chapter of the series, and she may even turn up in future spin-offs like "Ballerina" alongside Ana De Armas, Anjelica Huston, and Norman Reedus. "If they did a series, I'd love to pop in," Tena told Inverse recently. "Maybe that time I can do some stunts. Maybe she's got a dog as well."
Time will tell if Tena becomes more of a staple in the "Wick" series, but for now, the in-demand actor can happily add another memorable role to her résumé. For hardcore fans of another popular franchise that lasted for a decade or more, however, Tena will undoubtedly be recognized for playing a role that focused more on her skills as a sorcerer than her prowess as a hired killer.
'Don't Call Me Nymphadora, Remus. It's Tonks.'
That's where she's from! Over four films in the Harry Potter series, Tena played the half-blood witch known as Nymphadora Tonks, one of the most beloved characters in the later installments of the Hogwarts saga. Tena appeared in "Harry Potter and the Order of the Phoenix" with Mad-Eye Moody (Brendan Gleeson), and quickly became a fan favorite thanks to her U.K. punk rock intensity and steadfast loyalty. She also appeared in "Harry Potter and the Half-Blood Prince," "Harry Potter and the Deathly Hallows: Part 1," and the final film, "Harry Potter and the Deathly Hallows: Part 2," where she was tragically murdered by Death Eater Bellatrix Lestrange (Helena Bonham Carter).
Tonks always felt like an outcast among outcasts and, for more alternative kids, she was immediately relatable. Tonks was the cool friend you could skip potions class with to sneak off and smoke cigarettes behind Hagrid's house. The fire-fueled energy that Tena brought to Tonks is still burning in her "John Wick: Chapter 4" character, which may drive some members of the audience a little mad as they nudge their date to whisper how familiar she looks. She definitely still has the same intimidating glare and onscreen intensity that she had at a younger age in the "Harry Potter" franchise.
If you already recognized her from her days battling the Death Eaters, there are a couple of other memorable roles where Natalia Tena has also made her mark.
She's A Wild One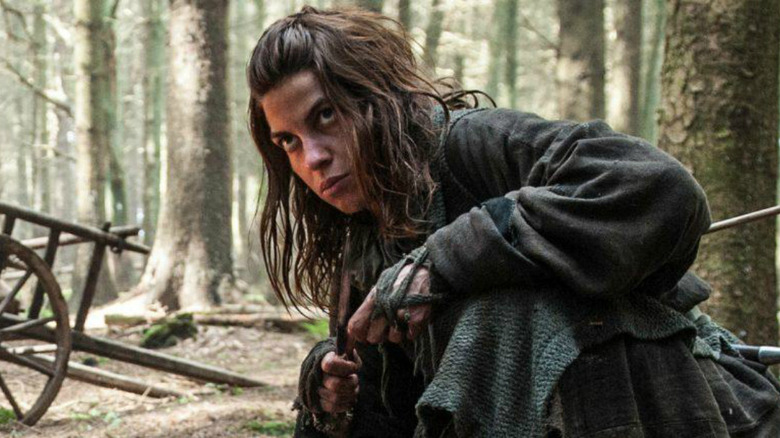 See? Same stare. I personally remember Natalia Tena as Osha, the guileful member of the Wild Folk who would go on to protect Bran and Rickon Stark across Westeros in HBO's "Game of Thrones." First seen in the season 1 episode, "A Golden Crown," Osha was forced into servitude by House Stark of Winterfell only to become one of the most loyal stalwarts of their family crest.
Making it all the way to season 6, Osha attempted to seduce and then assassinate the unthinkable scoundrel Ramsay Bolton (Iwan Rheon) back in Winterfell, only to fail just before she could reach a kitchen knife. Bolton retaliates with a quick blade to her throat, catching Osha and the audience completely by surprise. Osha's death in "Game of Thrones" was one of the more emotional ends of the series for me, mostly due to her accidental participation in the fight to rule the Iron Throne. Osha was never even used as a pawn in the never-ending quest to have power over the Seven Kingdoms, and she didn't deserve the fate that she received at the hands of one of television's greatest all-time villains.
Tena's performance as a wilding trapped south of The Wall made Osha one of the fiercest characters on the show, which is saying a lot when you're appearing in the same series as Yara Greyjoy (Gemma Whelan) and Sandor "The Hound" Clegane (Rory McCann).
Another Crime Family In Outer Space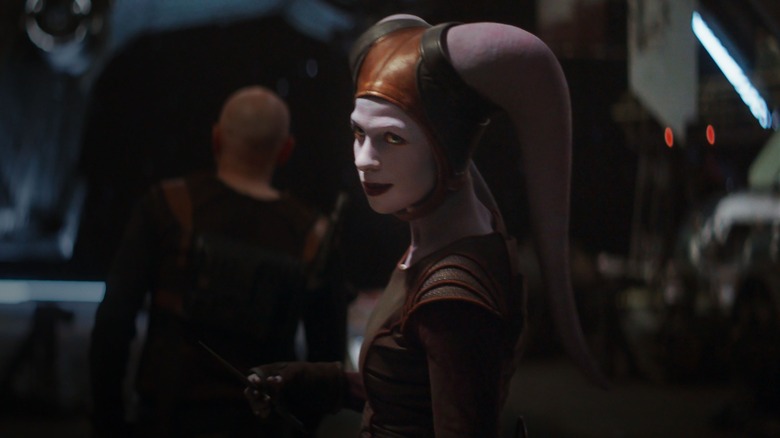 It wasn't until episode 6 of "The Mandalorian" that the first live-action "Star Wars" series finally lived up to its true potential. Mando's (Pedro Pascal) backstory was fleshed out to reveal a dark past and even a past romance with a knife-wielding Twi'lek mercenary called Xi'an. Except for that classic stare, Natalia Tena was virtually unrecognizable in episode 6, "The Prisoner," as a member of a team of criminals who sneak aboard a prison transport to rescue her brother, Qin. Of course, they betray Mando leading him to stalk all of them one-by-one in a stunning sequence that feels like it's out of a slasher film instead of a family-friendly "Star Wars" show on Disney+.
At the end of "The Prisoner," it's revealed that Xi'an and her cohorts Burg (Clancy Brown) and Mayfeld (Bill Burr) are trapped in a prison cell. Migs Mayfeld has already returned in "The Mandalorian," but fans are still crossing their fingers that maybe Xi'an could feature in a future episode somewhere down the line.
This weekend, Tena should turn heads once again in "John Wick: Chapter 4," and maybe, just maybe, she'll pop up again in the "Wick"-verse or the "Star Wars" galaxy sometime very soon.
Read this next: 23 Movies Like John Wick That Will Get Your Adrenaline Pumping
The post John Wick: Chapter 4 Utilizes a Familiar Face from the Harry Potter Franchise appeared first on /Film.