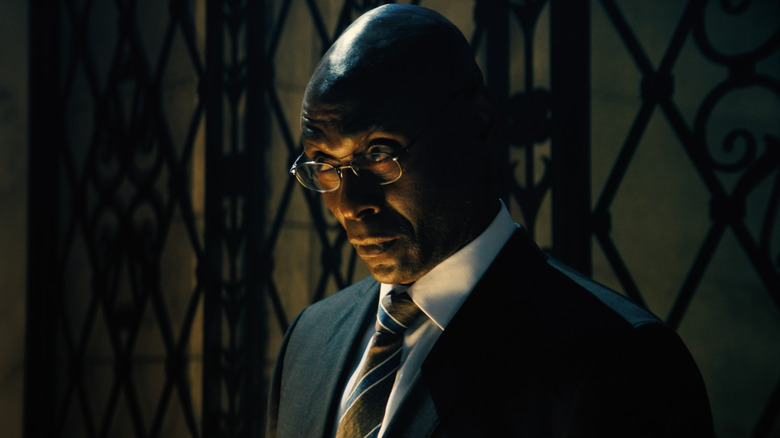 This post contains spoilers for "John Wick: Chapter 4."
Lance Reddick was one of the best actors working in Hollywood, which made his sudden death on March 17 all the more devastating. His role as Charon in the "John Wick" franchise was just one of the many characters he brought to the screen with depth and precision. Whether Reddick was playing Phillip Broyles on "Fringe," Cedric Daniels on "The Wire," Irvin Irving on "Bosch," or any other of his many, many roles, you knew whatever you were watching would be better because of his presence.
If you've seen "John Wick: Chapter 4" (and you shouldn't be reading this interview if you haven't, unless you're cool with major spoilers), you know that something upsetting happens with Reddick's most loyal concierge, Charon. Reddick played the character in five films — the four "John Wick" movies as well as the upcoming spinoff, "Ballerina" — and he had no idea where the role would take him when he first signed on for the part.
I spoke with the actor the day before his passing about playing Charon in the "John Wick" franchise. "The opportunity to play this really taciturn, quintessential servant, and with an accent, was really cool to me," he told me. Charon didn't always stay behind the desk, however, as anyone who has seen "John Wick: Chapter 3 – Parabellum" can attest.
Reddick and I talked about what happens with Charon in "Chapter 4," what we can expect from the concierge in "Ballerina," and what other projects the actor worked on that are due to come out in the upcoming months.
Note: Lionsgate sent us a statement regarding Reddick's death, which we'll print in full below:
The world of Wick would not be what it is without Lance Reddick and the unparalleled depth he brought to Charon's humanity and unflappable charisma. Lance leaves behind an indelible legacy and hugely impressive body of work, but we will remember him as our lovely, joyful friend and Concierge. We're stunned and heartbroken, and our deepest condolences go to his beloved family and his fans all around the world.
Chad Stahelski and Keanu Reeves also sent out a joint statement:
We are deeply saddened and heartbroken at the loss of our beloved friend and colleague Lance Reddick.

He was the consummate professional and a joy to work with.

Our love and prayers are with his wife Stephanie, his children, family and friends.

We dedicate the film to his loving memory. We will miss him dearly.
This interview has been lightly edited for clarity and brevity.
'I Loved Being Behind The Desk Because It Was Such A Cool Character'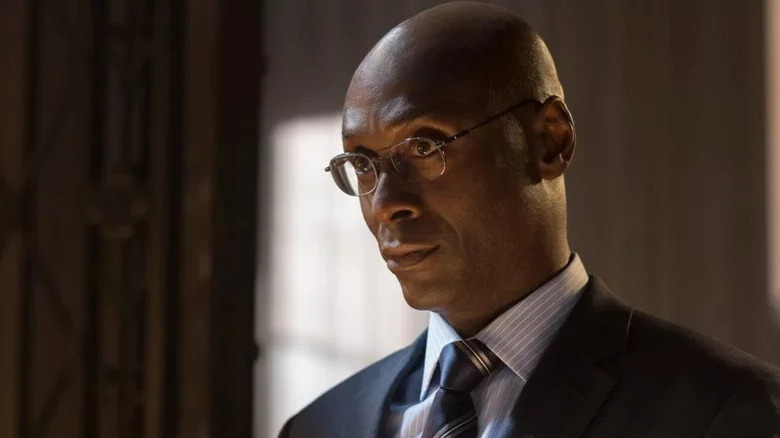 I wanted to start out by talking about your overall experience with "Wick." When you first took on the role of Charon back in the first film, did you think it would turn into this journey and that your character would be part of this franchise in that way?
No. I did it because the script was so good, and it was a kind of role that I really had never gotten to play before. It was really almost 180 degrees away from what I was starting to get typecast in, which was the authority figure who talks a lot. So the opportunity to play this really taciturn, quintessential servant, and with an accent, was really cool to me.
About the accent, was that something that came with the character, or is that something you worked to bring?
It said African accent in the script. It didn't specify which one. And also remember, I didn't have a lot of time to prepare. I think I had less than a week between the time that I got the offer and the time that I shot my stuff in the first film.
So I went through my accent tapes, and I tried a South African accent, and it didn't seem to fit. Then I tried a Kenyan accent, and that seemed to really fit. The funny thing about that is that when I taped that Kenyan accent, that was for a film that I did over 25 years ago called "I Dreamed of Africa." And I got the role before I got the script, and then once I got the script for that film, I realized that all my stuff was going to be in Swahili. So knowing the accent per se wasn't really going to help me. It's just really cool that I was able to use that from 20 years earlier, that accent, and it served me in this.
Charon has primarily been behind the desk in the "Wick," but in the third movie, you get some action moments. Do you have any preference in terms of playing the character? Did you like being behind the desk versus getting a bit more active?
Well, it depended. In the first one, I loved being behind the desk because it was such a cool character. After that, my favorite stuff was really the action stuff I got to do in the third one.
Any particular action scene in particular that just was really fun to do?
Yeah, unfortunately it got cut short because of time, because the sequence was actually supposed to be twice as long. My action stuff, just because of location, my stuff was tied to Keanu's, and they always shot his stuff first because he had so much to do. So my first thing that I was supposed to shoot in the scene, it's basically the one sequence where I'm by myself with a shotgun, going through the bowels of the building. That was a lot of fun.
'Believe It Or Not, It's Different From The Way It Was Originally Written'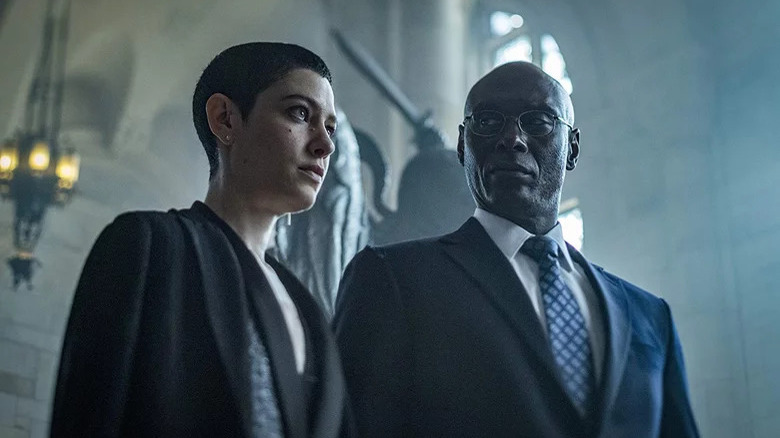 When did you find out about Charon's fate in the fourth film, and how did you find out?
I got a call from my agent, and the producers over at Thunder Road basically told my agent, "This is happening, so we want to give him a heads up first. So here's the script, let us know what you think. And if he needs to get on a call with [director Chad Stahelski], he'll do that." So that's what happened. And then I got on a call with Chad.
What did Chad say just in terms of what was happening?
Believe it or not, it's different from the way it was originally written, so we changed a couple things. In the original [version], Charon hardly says anything — not that he says that much anyway. But now, this is the first time that Charon actually stands up, and actually, for the first time in the film, you actually see him defending Winston. Also, in the original version that I read, he knew that he was going to be shot, and he just took it. And I was like, "That's not going to work. It's got to be a shock." So we changed that.
Well, it definitely is a shock, for sure. What was it like the day of, just shooting that scene?
Actually, we didn't do a lot of takes. Part of what was hard for me — it's interesting, because on the one hand, I was hoping I could get to do more action like I did in the third film. But on the other hand, I had just finished filming the first season, and unfortunately the only season, of "Resident Evil," in which I did a lot of action at the end of that show. And I had an injury, so I was actually in a lot of pain while we were shooting that. But also, I haven't gotten a chance to die very often on film, either, so that was kind of cool.
I know this isn't going to be the last time we see you in the "Wick" universe, because I know you're in "Ballerina." What was it like on the "Ballerina" set compared to a "Wick" film?
It's different, only because it was a different director and a different star. I had never met Ana [de Armas] before, and so, for me, it was more just a job as opposed to family. And also, my experience of it was that it was more about establishing her being part of the universe than it was kind of integral to the plot.
Got it, so it sounds like you're introducing her to the universe. Is there anything else you can tease about what your role is or what you do?
I mean, it's pretty similar to what I do — it's still The Continental. But the script is, wow, talk about action, and the plot stuff — that's going to be a cool movie, if they pull off what's on the page. It's a jaw-dropping story in terms of plot twists and family.
'I'd Love To Do Some Stuff Where I Get To Do More Hand-To-Hand'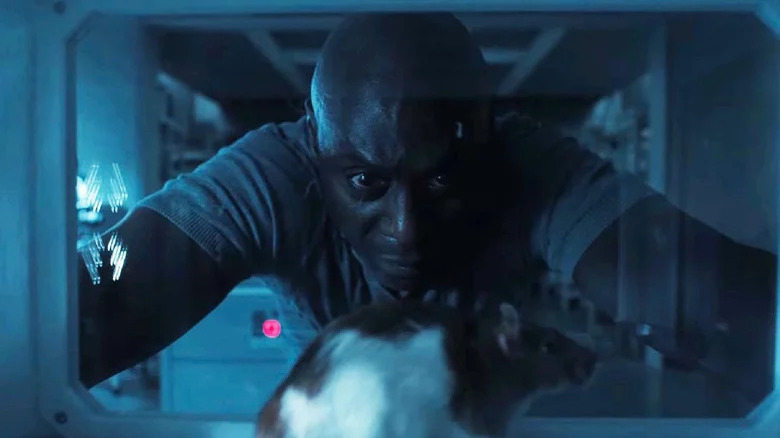 You mentioned you liked action, and obviously you've done it in "Wick" and "Resident Evil." Is there any type of action or stunts that you want to do that you haven't done before?
Especially as I've gotten older, I'm kind of stacking up the injuries. But I'd love to do some stuff where I get to do more hand-to-hand, particularly grappling and punching.
Obviously you have a long, impressive career. What are you doing next? What are some projects you're really excited about that you're working on that you just want to tease as coming out?
Well, we've actually got a little bit of re-shooting to do on this, but a film that I'm really excited about that we shot at the beginning of last year, it's called "Shirley," and it's about Shirley Chisholm, starring Regina King, and John Ridley wrote and directed it. And I play the guy who was actually her political mentor, and it's the story of her run for the presidency in 1972.
Then there's the remake of "White Man Can't Jump," which comes out in May. I played one of the lead's fathers, and I think it's going to be a cool film, and it's a cool role for reasons that I can't say because it's spoiler territory.
Then the other thing, I'm not sure when it's coming out, but a film I just finished shooting is William Friedkin's last film, and it's a film version of the play version of "The Caine Mutiny Court-Martial." And I'm really excited about that. I play the judge. Not the judge advocate, but I basically play the judge in the military tribunal. And Jason Clarke, who's one of my favorite actors, and I've wanted to work with him for years, he's playing the lead attorney. And Kiefer Sutherland is playing Captain Queeg, so it's going to be great.
"John Wick: Chapter 4" is now playing in theaters.
Read this next: The 14 Greatest Action Movies Of The 21st Century
The post John Wick: Chapter 4's Lance Reddick On Playing Charon Across Five Films [Exclusive Interview] appeared first on /Film.