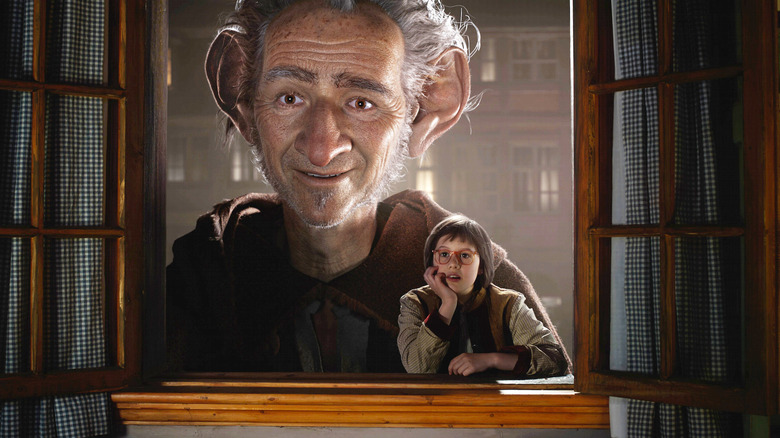 On paper, filmmaker Steven Spielberg and novelist Roald Dahl couldn't be more different. Spielberg has been known as a sentimental filmmaker, expertly presenting many heartwarming fables throughout his career. Thanks to films like "E.T. the Extra-Terrestrial," "Always," "Hook," and "War Horse," one can see the optimist in Spielberg shining through. His films tend to end well for their protagonists, and his little kid characters experience growth and wonderment, even as they survive mayhem. Yes, Spielberg could be intense and bitter at times, but he's hardly known for his cynicism. Roald Dahl, meanwhile, might be defined by his cynicism. In Dahl's children's stories, the world is a bleak and aggressive place, full of abusive adults and systems designed to exploit children. "Matilda" takes place at the world's most miserable school. "James and the Giant Peach" begins with the eponymous character being horrible abused by his two aunts. It's a positive coup when the giant peach rolls over the two aunts and kills them.
When Spielberg adapted Dahl's 1982 novel "The BFG" in 2016, it seemed like the oddest of pairings. "The BFG" is about an orphan named Sophie (Ruby Barnhill) who, from the window of her orphanage, spies a 20-foot giant creeping through the foggy streets of London at night. The giant grabs Sophie and takes her back to his home. Called the BFG for "big friendly giant," this creature lives alone and has taken on a very strange job. He regularly visits a magical tree where dreams are born. He captures them in nets and then sneaks into the cities to insert them into human brains. When off duty, the BFG eats horrible vegetables called snozzcumbers, and drinks a magical beverage that causes explosive, satisfying flatulence.
One might be able to immediately intuit why "The BFG" was not a hit.
Just Weird Enough, Or Too Weird?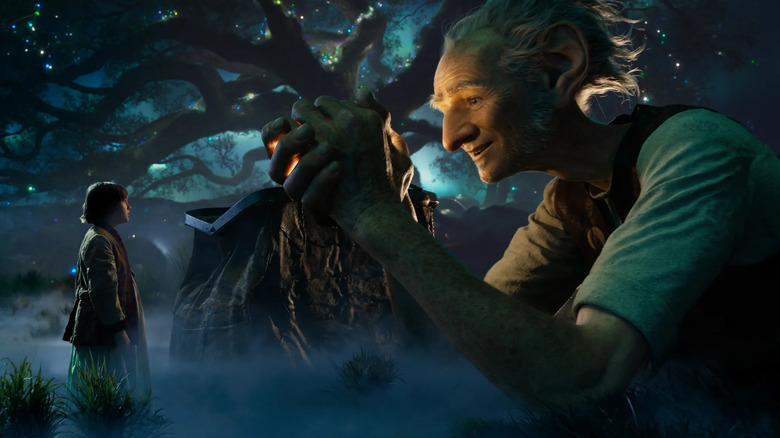 Something like "The BFG" might have felt more at home in the late 1980s or early 1990s, when quirky and offbeat filmmakers like Tim Burton were making oddball, visually interesting films that were still becoming hits. By 2016, in the heyday of slick-and-safe-and-bland Disney films based on Marvel comics and the reboot of old standbys like "Star Wars," truly off-center studio films were few and far between. It's entirely possible that 2016 was the wrong time for a film like "The BFG," as most fantasy narratives at the time were based in simplistic, morally absolute worlds where good fought evil. "The BFG" has some "evil" giants who regularly bully the BFG, but his and Sophie's revenge on the bullies (they capture a few nasty nightmares) is not the climax of the movie. The climax of the movie is, and I'm not making this up, a scene wherein Queen Elizabeth II noisily farts. Her famous corgis also fart so hard, they end up skittering across the floors of Buckingham Palace. Yes, this was in a $140 million Steven Spielberg movie released by Disney.
"The BFG" was the first time Disney and Spielberg had worked together. The screenplay was by the late Melissa Mathison, who had previously penned "E.T.," as well as the family adventure films "The Indian in the Cupboard" and the English-language script for Hayao Miyazaki's "Ponyo." The special effects were first rate, and Mark Rylance, fresh off his Oscar win for "Bridge of Spies," gave a tremendous physical performance for the BFG. It seemed like all the elements were in play to provide the world with an off-center children's fable.
Sadly, it came at a time when off-center fables were well out of vogue.
Fairy Tale Heroes As Soldiers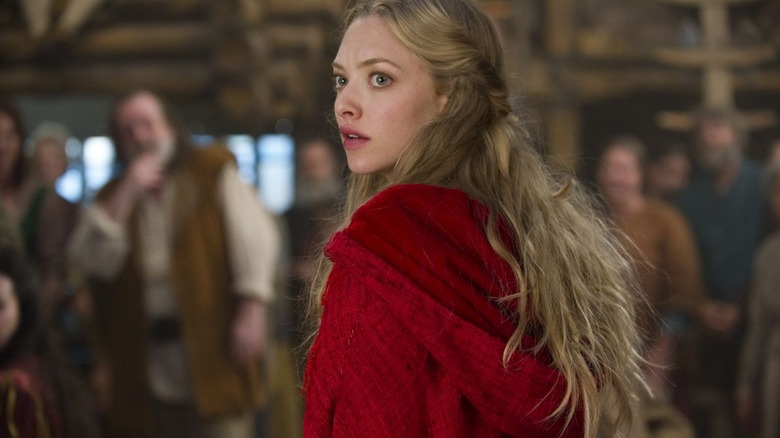 Indeed, the '10s' approach to fables skewed more toward teen-friendly action and/or romance. There are many, many examples of familiar fable folk taking up arms and getting into battlefield altercations for the better part of the decade. In "Alice in Wonderland," the title character eventually took up a sword. The 2011 version of "Red Riding Hood" saw the heroine fighting a monstrous werewolf. The Brothers Grimm became monsters and Hansel and Gretel fought witches. Thanks to the "Twilight" movies, other dark romances also infiltrated cinemas, and audiences were "treated" to films like "Beastly."
Even Disney's animated "Tangled" and "Frozen" were hip-talking but relatively straightforward renditions of "Rapunzel" and "The Snow Queen," respectively. Audiences, it seemed, were keen on earnestness. Either a fairy tale needed to fit the traditional Disney mold, or they needed to be given the PG-13 treatment. A legitimately odd, unconventionally structured story like "The BFG" wasn't on anyone's radar.
It also didn't help that Spielberg's film was so expensive. At $140 million, it was Spielberg's second priciest movie after "Indiana Jones and the Kingdom of the Crystal Skull" in 2008. While Spielberg was known for hits, by 2016, his taste for effects-driven blockbusters was waning. The filmmaker was clearly more keen on films like "Lincoln" and his 2017 film "The Post" to much care about slicker, more family-friendly fare. "The BFG" never felt like a "sure thing," and audiences were more interested in "Finding Dory," which was playing in theaters at the same time.
Also, it's notable that "The BFG" didn't get overwhelmingly positive reviews. It currently holds a respectable 74% approval rating on Rotten Tomatoes.
The European-Ness Of It All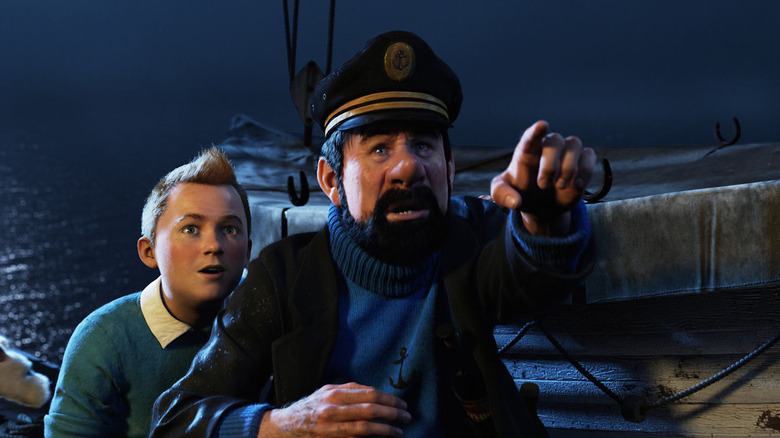 As pointed out in a 2016 box office report in Forbes, Steven Spielberg was in a similar spot with "The BFG" as he'd been with his animated film "The Adventures of Tintin" five years prior. The "Tintin" comic book, by Belgian author Hergé, were far better known throughout Europe than in the United States, where mention of the character invited only indifference stateside. "Tintin" made only $9.7 million over its opening weekend in the U.S., eventually grossing a mere $77 million domestically. This was against a budget of $135 million. Worldwide, however, "Tintin" earned about $374 million, so it can most certainly be considered a hit.
Roald Dahl is a British author, and while several of his books have been adapted into successful U.S. movies — "Charlie and the Chocolate Factory," "The Witches," "Matilda," and "Fantastic Mr. Fox" are all of note — there was something about the film of "The BFG" that was perhaps too aggressively English for mainstream U.S. audiences. That the film climaxes with a dinner with Queen Elizabeth is certainly notable. Perhaps U.S. audiences would have preferred a White House dinner with Ronald Reagan? Oof. Never mind.
Spielberg had directed bombs before "The BFG," but they seem to be getting more common as the landscape changes. Prior to "The BFG," the filmmaker's most notable financial flops were "Munich," "Always," "1941," and "Amistad," each of which merely broke even. Since "The BFG," however, most of Spielberg's movies have accrued awards attention, yet earned little scratch. "The Fabelmans" only made $39.8 million overall. "West Side Story" made $74.8 million on a $100 million budget. Films like "The Post," "Bridge of Spies," and even "Ready Player One" were bigger overseas.
Perhaps, at the end of the day, "The BFG" was merely too European.
Read this next: Every Steven Spielberg-Directed Horror Movie, Ranked
The post Why The BFG Failed at the Box Office appeared first on /Film.