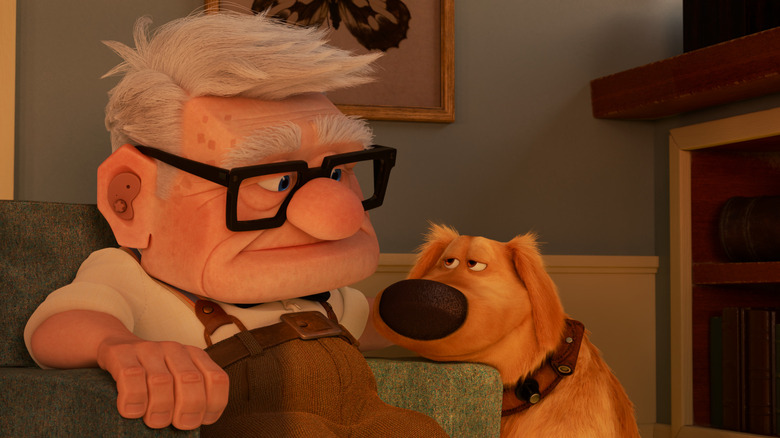 For many years, it was customary that every new theatrical release from Pixar would include a short film as an opener for the film, usually sharing a similar tone or thematic idea with the feature film. The last one was 2018's "Bao," which eventually won the Academy Award for Best Animated Short Film and led to director Domee Shi helming her first feature, the breakout hit "Turning Red." Sadly, the tradition came to an end with the release of "Toy Story 4" in 2019, and if we're being honest, we've been missing it. Sure, Disney+ has been a fantastic outlet for fantastic short films out of Pixar and Walt Disney Animation studios, but there was always something magical about seeing a Pixar short before a feature — a cinematic appetizer to help the real world drift away and allow audiences to fully immerse themselves into a new, animated world.
While there's no word yet on whether or not the tradition is coming back for good, we've recently learned that the upcoming film "Elemental" will also feature a Pixar short called "Carl's Date," featuring the final performance of Ed Asner, who returned to voice Carl Fredricksen, first introduced to the world in 2009's "Up." The short was originally concocted as part of the Disney+ collection of "Dug Days" shorts featuring the beloved, talking golden retriever. However, due to the short film's themes of love and loss, the story was upgraded to satisfy audiences on the big screen. /Film's own Ethan Anderton attended a press day for "Elemental," where the media in attendance was given an exclusive preview of the entire short film. We're not here to spoil anything, but from the sounds of it, we might all need to take up stock in Kleenex.
'A Charming Epilogue For Pixar's Up'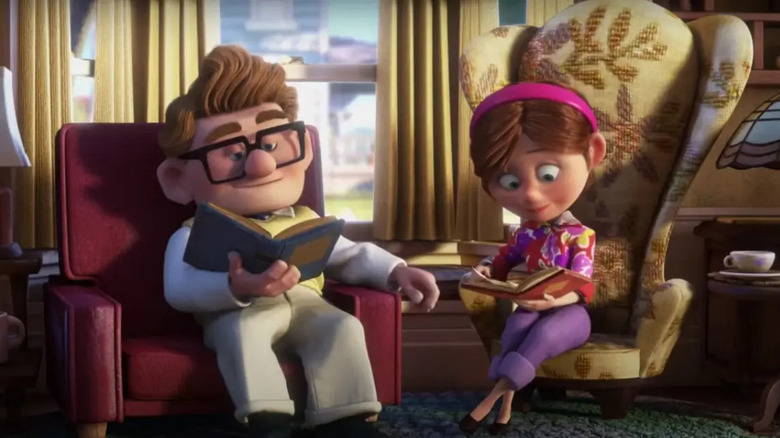 According to Anderton, "Carl's Date" is not just a short film, but also a "charming epilogue for Pixar's 'Up' that sends Carl off on a new kind of adventure." Ed Asner returns to voice the square-headed, endearingly crotchety old man, with the performance recorded just months before his unfortunate passing. "Like Pixar's best work, the short has a moving emotional core inspired by real life, mixed with some delightful comedy involving everybody's favorite, easily distracted, talking dog Dug," he says. The short film takes place after a local senior center takes in Charles Muntz's talking dogs, and the woman who adopts Beta happens to also have a thing for Carl and wants to go on a date.
Pixar
The story is, as Anderton describes it, "an amusing series of events where Dug tries to help Carl psyche himself to go on a date, something that is particularly daunting since it will be the first date he's gone on since his wife Ellie passed away." Of course, hijinks ensue, as to be expected, especially when combining Carl's grumpiness with Dug's lack of understanding of certain human elements of life. It's a bold move having "Carl's Date" open for "Elemental," especially when considering how impactful the opening sequence of "Up" has been in the canon of Pixar stories. "This is a charming, wonderful short that is worthy of playing in theaters, and if you think you're going to get out of this one without shedding some tears, think again," Anderton says. "Get those tissues ready!"
Adventure Is Out There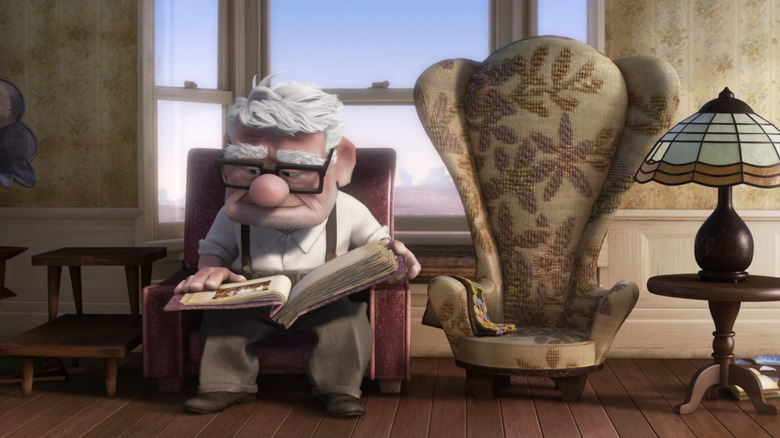 Bob Peterson, who directed the "Dug Days" shorts as well as "Carl's Date" was in attendance at the press day, and had plenty to say about the touching short. "No one will ever replace Ellie for Carl," he says. "This is just honoring her and Ellie saying, 'Go have a new adventure,' and this really puts it to the test. Should he do this or should he not?" Anderton says Peterson was touched by how many members of the press had to take a second and collect themselves so they weren't asking their questions through tears. Peterson also confirms that "Carl's Date" was made with the blessing of Pete Docter, who directed "Up" and served as executive producer on "Elemental."
Allowing audiences to see what Carl's been up to after all these years is a welcomed return, but knowing "Carl's Date" is one of Ed Asner's final performances. Peterson expressed just how special the experience was. "The man, he's hilarious," he says. "He is Carl Fredrickson." Ed Asner had over 400 credits to his name at the time of his death, but Anser's turn as Carl became one of his most memorable.
"It was just so fun to work with him. You know, I grew up with 'The Mary Tyler Moore Show' and it was just a treat to be with him. He's grouchy but had this amazing heart and very, very funny. And a work ethic like you wouldn't believe. […] We feel blessed to have been with him toward the end of his career and I feel like this honors him pretty well."
Like all of the Pixar shorts, "Carl's Date" will eventually make its way to Disney+ after playing theatrically with "Elemental," which opens on June 16, 2023.
Read this next: The 15 Best Pixar Scenes Ranked
The post New Up Short to Play With Pixar's Elemental, Features Ed Asner's Final Role appeared first on /Film.