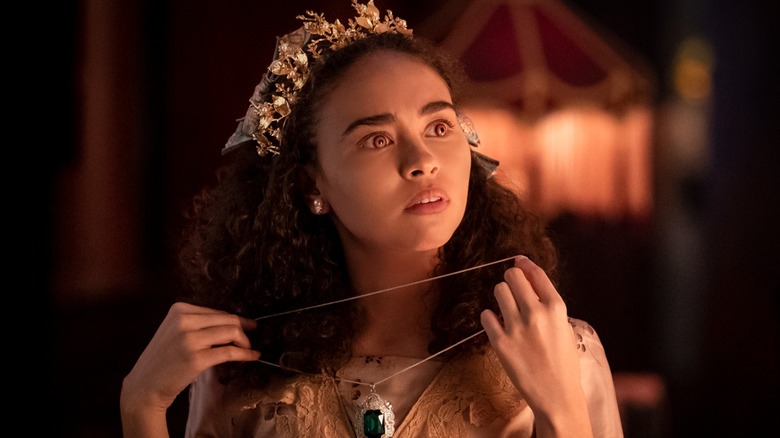 The first season of AMC's "Interview With the Vampire" was a delicious high point of last year's oversaturated TV landscape, and the show is already set for a second season, but the news has now broken that it will be continuing on without one of its stars. Bailey Bass, the rising star who put a sensational spin on the character of teen vampire Claudia in the show's first batch of episodes, is stepping away from the role, per Variety. When the show returns, actor Delainey Hayles will take over the part of the eager and impetuous adoptee of turn-of-the-century undead lovers Louis (Jacob Anderson) and Lestat (Sam Reid).
In a statement shared to her Instagram, Bass thanked the cast, crew, and fans for supporting her during her time in the "dream role." The actor didn't single out one specific reason for her departure, but said she would be unable to return to the series' sophomore season "due to a variety of unforeseen circumstances." A spokesperson for AMC also told Variety that "for a variety of reasons, Delainey Hayles will appear as Claudia in season 2."
While it sounds like multiple undisclosed factors went into Bass's decision to step away, at least one seems pretty obvious: the actress appeared in James Cameron's "Avatar: The Way of Water" last December, and is set to reprise her role in the franchise's next sequel.
As Claudia, Bass Was Part Of One Of The Best (And Wildest) Trios On TV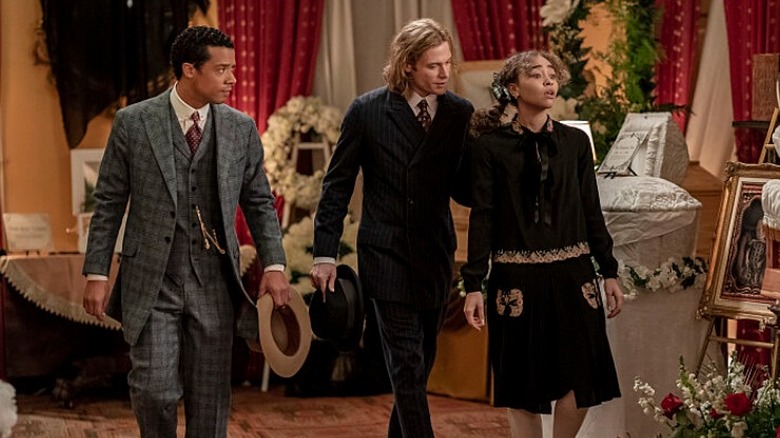 Cameron's films involve notoriously intensive shoots, and the filmmaker is reportedly working on multiple installments at once right now, with filming on "Avatar 4" underway as of last fall. Depending on how prominent a role her character, Tsireya, has in future "Avatar" sequels, as well as any other projects she may be working on, it's understandable that Bass might not have time in her schedule to come back for round two as Claudia. Still, it's unfortunate news and a clear loss for "Interview With the Vampire," a show that until now was pretty close to perfect.
Claudia was the actor's first-ever role after a guest stint on "Law & Order: Special Victims Unit," and as far as acting debuts go, it was incredibly impressive. Bass embodied the complex, sometimes-antagonistic character with seeming ease, playing Claudia first as a super-peppy kid, then as an impulsive, bloodthirsty teen, and finally as a bitter adult whose love for her more manipulative parent, Lestat, soured over time. "Interview With the Vampire" is a deeply unorthodox story, one in which the core trio blurs the line between family, confidantes, mentors, lovers, and enemies. As Claudia, Bass countered Anderson's intensely emotional, grounded performance and Reid's engrossingly theatrical one with a skillful sense of borderline-campy childishness and cheer.
The Rocky History Of Recasts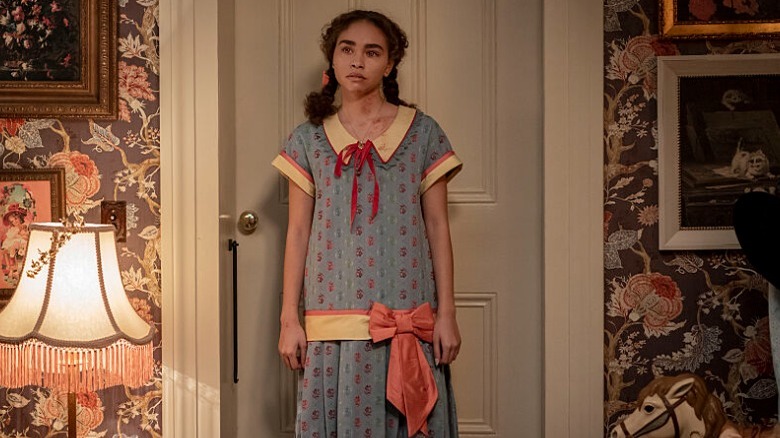 Without Bass, the central relationship in "Interview With the Vampire" season 1 would simply come across as abusive and depressing. With her, it's frankly still both of those things, but it's also wryly funny and gloriously over-the-top. Hayles, whose credits to date include the shows "Holby City" and "Too Close," will hopefully bring a similar verve to the role, but the very fact of the recast is disappointing for fans who recognized Reid, Anderson, and Bass's chemistry as some of the best on TV.
Recasts in major roles seem to be an increasingly rare phenomenon, but they still feel disruptive and can make suspension of disbelief tougher going forward. The success of TV recasts varies wildly; while "Game of Thrones" didn't lose viewers after replacing one Daario Naharis with a totally different-looking man and "Mad Men" cycled through Bobby Drapers like nobody's business, the recent news that "The Witcher" would be swapping out Henry Cavill for Liam Hemsworth led fans to call for the series' cancellation. From Mark Ruffalo's Hulk to Daphne Maxwell Reid's Aunt Viv, rocky recasts have long since been a part of Hollywood, and they're a nerve-wracking practice no matter how well they turn out.
While it's hard not to worry about the future of "Interview With the Vampire" without Bass, the fact remains that it's one of the best shows on TV. The show has so far retold Anne Rice's "The Vampire Chronicles" with pitch-perfect performances, luxurious design and visuals, and a clever eye for areas of improvement within the source material. Bass, meanwhile, has an exciting future ahead of her, and an indelible performance already under her belt.
"Interview With the Vampire" season 2 does not yet have a premiere date. Season 1 is available to stream on AMC+.
Read this next: How These Child Stars Feel About The Horror Movies That Put Them On The Map
The post Bailey Bass Isn't Returning for Interview With the Vampire Season 2, And That Sucks appeared first on /Film.