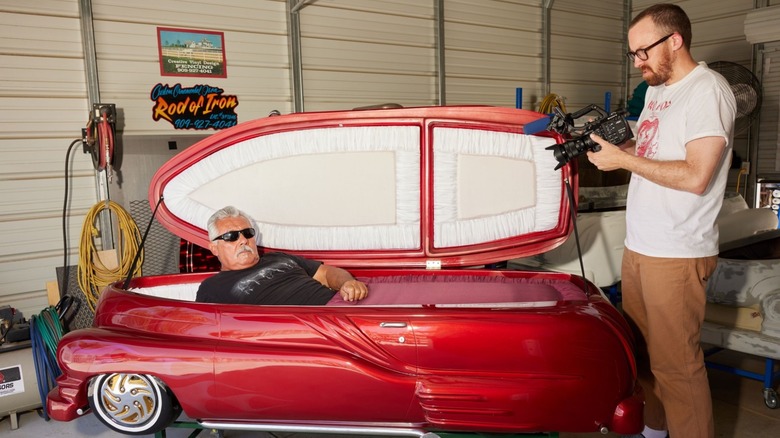 "How To With John Wilson" is one of the most delightful and insightful shows on TV, but given how time-intensive the process of shooting and editing the docuseries undoubtedly is, it makes sense that it wouldn't last in its current iteration forever. Every episode of Wilson's show includes unlikely moments and surprising images that feel like the documentarian's version of striking gold, whether Wilson is talking to an "Avatar" fan club or a man who invented a machine to un-circumcise adults. The show is curious, deadpan, life-affirming, and hilarious. It's also concluding with its upcoming third season, per Variety.
Luckily, the announcement of the end of "How To With John Wilson" comes with a pick-me-up: a teaser trailer for the third season, which is set to debut in late July on HBO and the artist formerly known as HBO Max. The loose "how to" format that frames each episode will be back for the new season, with Variety noting that episodes will include topics like "how to find a public restroom" and "how to clean your ears." If you've seen the show (which is executive produced by Nathan Fielder and contains some of the same mind-melting format-breaking as his own works), you'll know that these questions often lead down bizarre rabbit holes and to surprisingly heartfelt conclusions.
Watch The Trailer For How To With John Wilson Season 3
John Wilson shared a statement with Variety in which he explained that approaching season 3 as an ending allowed him to be even more ambitious in his approach than usual, adding that he wants to end the show while "the style and imagery [still] feel surprising." The filmmaker's unique perspective won't be going away anytime soon, though: he said he still has more ideas that he plans to put towards a future endeavor, noting that "the project of documenting the current moment never really ends."
As for the teaser, it doesn't hint at what emotional depths the show might plumb in its final season (the first two ended up being influenced by the pandemic in a rather remarkable way), but it does offer some hilarious moments — like when a bird-watcher in a roman collar tells Wilson to just say "Wow" even if he doesn't see birds, or when his attempt to eat an egg sandwich is interrupted by no fewer than 13 seagulls. "How To With John Wilson" is a brilliant show that always leaves me with a smile on my face, but if it has to say goodbye, I can't wait to see how Wilson does it.
"How To With John Wilson" season 3 premieres on HBO and Max on July 28, 2023.
Read this next: The 15 Best Anthology TV Series Ranked
The post How To With John Wilson Season 3 Trailer: The Funniest Show You Haven't Watched Yet is Coming to an End appeared first on /Film.