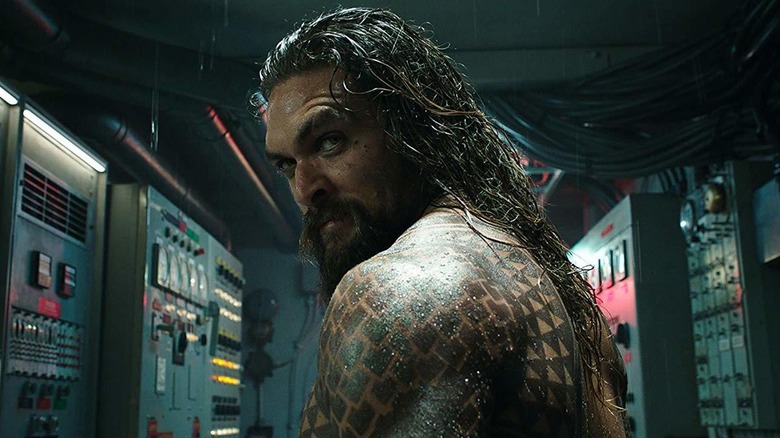 Jason Momoa is one of the most in-demand actors in Hollywood nowadays, from starring in the DC cinematic multiverse as Aquaman to taking on the villain role in "Fast X." But the actor's career trajectory could have gone in a radically different direction had he not made a bold decision roughly a decade ago. Long before Momoa was a household name, he actually backed out of auditioning for Drax in Marvel's "Guardians of the Galaxy," with the role ultimately going to Dave Bautista. The film, as we know, became a smash hit and spawned an entire trilogy.
It seemed like a bad move at the time. Momoa was only just beginning to become a bigger name back then, his turns on "Baywatch" and "Stargate: Atlantis" having led to his role as Khal Drogo on "Game of Thrones" in 2011. That same year, however, he also starred in the "Conan the Barbarian" reboot, which was both a critical and financial misfire. Speaking with Zap2it in 2014 (via IGN), Momoa explained his downright unthinkable decision to turn down a major comic book movie role so soon after that:
"I think it's perfectly cast. Dave [Bautista] is perfect for that role, for Drax. It didn't really fit in my time because I've done so many things where I don't say much and I'm colored up and I have my shirt off again. I made a conscious choice to turn down some movies that were action-based to direct 'Road to Paloma' so people could see that side."
Indeed, Momoa co-wrote and directed 2014's "Road to Paloma" rather than take a trip to the Marvel Cinematic Universe. Drax ended up being a bit more than your typical brooding tough guy, but Momoa's reasoning is understandable. Becoming typecast is a tough thing to get away from.
Everything Worked Out In The End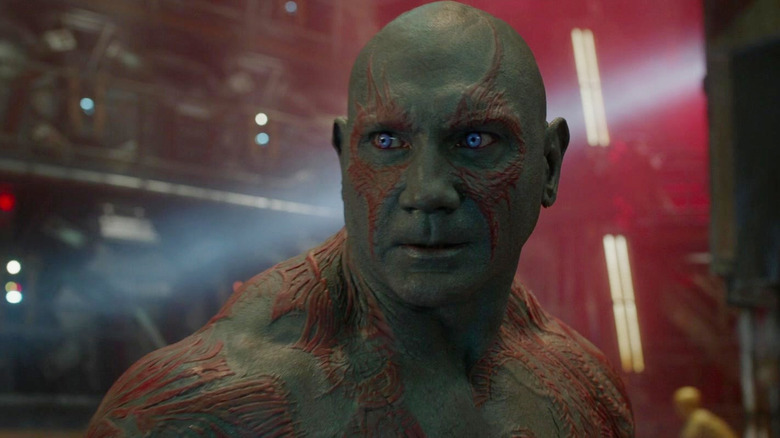 Back then, Dave Bautista was emerging from the world of professional wrestling, with "Guardians of the Galaxy" proving to be his big break in Hollywood. He has since become a downright fascinating actor in his own right, starring in films such as "Knock at the Cabin" and "Dune" (alongside Jason Momoa, actually) that display his range well beyond big tough guys. It's an enviable career, all built on the back of Drax.
That said, things worked out incredibly well for Momoa as well. A year after turning down Drax, he was cast as Arthur Curry, aka Aquaman, starting with a cameo in 2016's "Batman v Superman: Dawn of Justice" and then continuing with starring roles in 2017's "Justice League" and 2018's record-breaking "Aquaman." The actor has since flexed his chops on stuff like the Apple TV+ series "See" and the Netflix movie "Slumberland." In that same 2014 interview, Momoa explained that his decision was bigger than just one role:
"I want my children to see their father happy. It's not that it's not a good role, it just wasn't the right thing. I was on 'Stargate: Atlantis' for four years playing a similar character called Ronon, who was an alien who didn't say much and grunted. I've been there and done that, whether people have seen it or not. You want to stretch."
In the end, it's hard to imagine that things could have worked out better for both Momoa and Bautista. They're both remarkably successful and they're even developing a buddy-cop movie to star in together. All is well.
Read this next: The Most Powerful Aliens In The MCU Ranked
The post Why Jason Momoa Chose Not To Audition For Drax In Guardians Of The Galaxy appeared first on /Film.