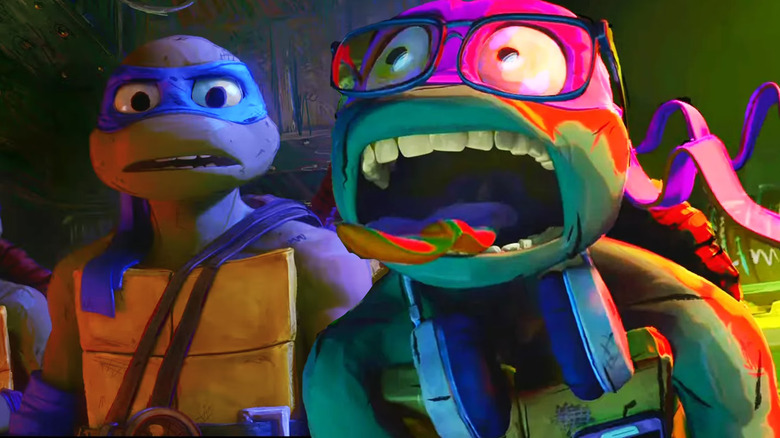 When it comes to earworms that instantly conjure memories of sitting cross-legged in front of the TV on a Saturday morning, it's hard to beat the theme song for the original "Teenage Mutant Ninja Turtles" cartoon series. The invigorating hype track about the "heroes in a half-shell" was composed by Dennis C. Brown and Chuck Lorre (yes, that Chuck Lorre). James Mandell, who provided the vocals, told Dish Nation that he was a session singer in the 1980s and one day he "got a call to come in and sing a tune with a 'wacky' lyric."
Now, Nine Inch Nails frontman Trent Reznor (also known for his wacky lyrics) and his longtime collaborator, Atticus Ross, are bringing their musical talents to the underworld of the Turtles. The news was let slip by professional skateboarder Tony Hawk, who recently visited Reznor to shoot a music video cameo appearance for a cover of Nine Inch Nails' "Wish." Hawk talked briefly about this on his podcast, "Hawk vs. Wolf" (h/t Gizmodo), where he also revealed:
"Him and Atticus were working on 'Teenage Mutant Ninja Turtles' […] When I went there, they were working on the soundtrack to that movie that [co-writer, producer, and Bebop voice actor] Seth [Rogen] told us about."
With the seal broken, "TMNT: Mutant Mayhem" co-director Jeff Rowe confirmed the news on Twitter. "Well now that my teenage hero @tonyhawk has leaked that my music heroes are doing this I can add that the score is absolutely AMAZING," Rowe enthused. "Exhilarating, terrifying, heartbreaking, full of sounds I didn't know existed. I don't have the vocabulary to describe it. I love it so much."
Cowabunga, Dudes!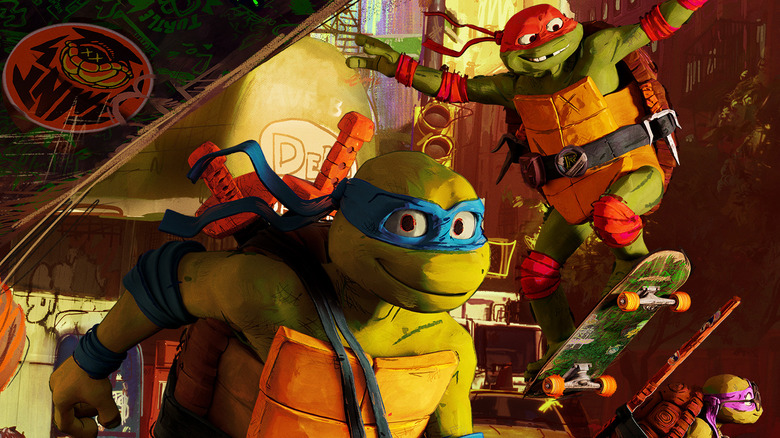 This reveal means that "Teenage Mutant Ninja Turtles: Mutant Mayhem" will be musically backed by an Oscar-winning team. Reznor and Ross's score for David Fincher's "The Social Network" won them an Academy Award, and they've put together the soundtracks for every one of Fincher's films since, including "The Girl with the Dragon Tattoo," "Gone Girl," and upcoming Netflix neo-noir "The Killer."
Before you start thinking that a kid-friendly movie is out of their wheelhouse, Reznor and Ross previously crafted the Golden Globe-winning soundtrack for Pixar's "Soul." Their filmography covers a breadth of genres, from Sam Mendes' romantic drama "Empire of Light" to climate change documentary "Before the Flood." But they seem particularly well-suited to "Mutant Mayhem," which promises to put the "Teenage" back in "Teenage Mutant Ninja Turtles" with a core voice cast made of actual teenagers, and the same fun, anarchic animation style that was used in Rowe's last film, "The Mitchells vs. the Machines."
The last time we saw the Turtles on the big screen, it was in a pair of CGI-led live-action movies produced by (and directed in the style of) Michael Bay. The 1990 "Teenage Mutant Ninja Turtles" is more fondly remembered — its sequels, less so. "Mutant Mayhem" marks the first theatrically-released animated feature about the Turtles since 2007's poorly-received "TMNT," and represents a larger shift away from smooth, polished, 3D computer animation and into sketchier, more experimental and artistic styles. It's exciting for that reason alone, but a soundtrack from Trent Reznor and Atticus Ross is certainly a nice bonus.
"Teenage Mutant Ninja Turtles: Mutant Mayhem" releases in theaters on August 2, 2023.
Read this next: The 14 Best Animated Movies (That Aren't Made By Disney Or Pixar)
The post Trent Reznor & Atticus Ross Are Scoring Teenage Mutant Ninja Turtles: Mutant Mayhem appeared first on /Film.