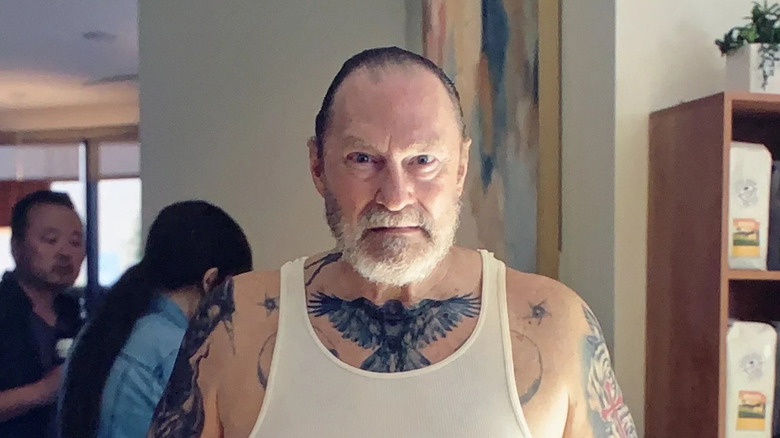 This post contains mild spoilers for the "Barry" series finale.
Over the course of his lengthy and varied career, Stephen Root has proven himself to be a consummate character actor; not just someone reliable and hard-working, but a true chameleon, darting in and out of disparate genres and roles.
As a result, it's incredibly difficult to choose a definitive Root character — there are some he's more famous for, like his creepy predator in "Get Out" or his eccentric billionaire in "Newsradio." Yet there are numerous other appearances of his that are just as beloved if not more so.
Throughout his resume, however, one doesn't see too many sexy, virile, crime lord assassin characters. That's all changed thanks to "Barry" and the series star, Bill Hader, who in this fourth and final season of the show has transformed Root's Monroe Fuches into the mysterious, intimidating, and — yes — sexy jailbird, the Raven.
As Root revealed in a recent interview with /Film's Josh Spiegel, this change in character came as much of a surprise to the actor as it did to the audience. Thanks to Hader giving Root the, ahem, freedom to spread his wings and fly as high as he wished, we have been blessed with another gift of another memorable Root role. Who would've thought that Milton from "Office Space" could be this badass?
'You Can Have Fun'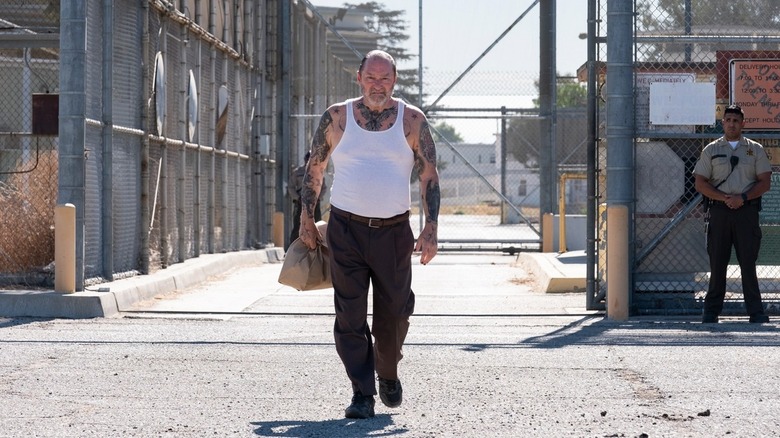 During the first several seasons of "Barry," Stephen Root made Fuches arguably the one character on the show who is the most difficult to like, but yet is always eminently watchable. A weasely, black-hearted master manipulator, Fuches — a man who is both incredibly selfish and easily offended — is the dark shadow of Gene Cousineau (Henry Winkler), the other surrogate father figure of Barry Berkman (Bill Hader).
Yet everything changed — for the show as well as Fuches — when the show enacted a time jump during season 4, one that caught up with everyone eight years into the future. For Fuches, that meant serving out his prison sentence by transforming himself from a guy who just got screwed over (again) by his protegé, into an all-powerful hunk of a gang leader, the Raven.
Speaking to /Film's Josh Spiegel, Root explained how the change allowed him to essentially be grandfathered into playing a character he usually doesn't get to play:
"We all knew at the end of season 3 he was going to be in prison, and I thought you could go so many [places] from there. I didn't have a specific way to go in my head where Fuches would go. But then again, I didn't know we were going to do a time jump, and nobody knew that for a while. [Hader] alluded to it and then we finally got some sense of it at the start of season 4. And at that point Bill hinted about what was going to happen, and I told him I would never be cast as [the Raven]. And he said, 'That's okay, you can have fun.' And we did, of course."
Root Gets To Be Sexy On Screen, With Hader's Permission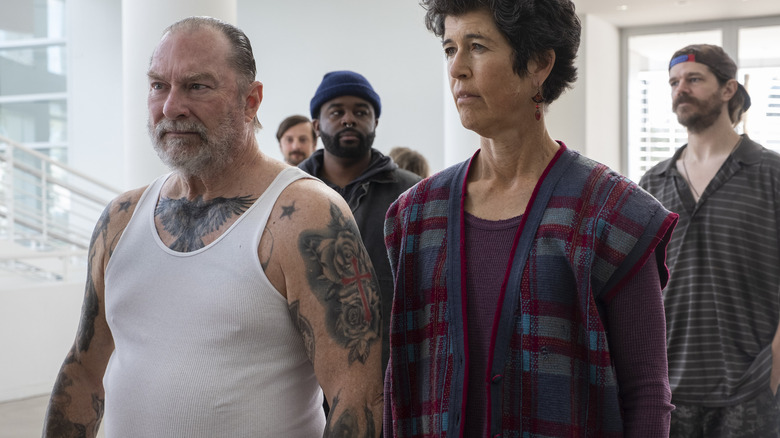 Thanks to his sonorous voice, a gaze that can range from quirky to piercing, and a bulky physique, Stephen Root has had the opportunity to play lots of imposing characters. Yet Fuches' reincarnation as the Raven (a persona that Fuches himself created out of thin air as a way of getting revenge on Barry) gave Root the opportunity to play an out-and-out sexy beast.
As the actor detailed to /Film, this came about thanks to one key piece of direction given to him by Bill Hader:
"In Bill's word, he really sidled up to my left ear and said, 'And I want you to be sexy.' [Laughing] I would never be cast as that. It would be a really, really fun challenge as a character actor to let most of the Fuches character go and come at it as confident and sexy."
As the back half of "Barry" season 4 proves, Root did indeed run with this suggestion, emerging from jail as the Raven and instantly picking up a barista to be his new wife before taking over the muscle of the newly minted businessman, Noho Hank (Anthony Carrigan).
Of course, no badass can truly be a badass without doing something that's actually badass, and most of the Raven's deeds are just Fuches in tatted-up, leather-clad dressing; a bloody feud begins between Hank and the Raven because Fuches drunkenly calls out Hank's role in the murder of Cristobal (Michael Irby), a goof that the old Fuches would definitely have made. In the season 4 finale, "wow," Fuches finally steps up and admits his mistakes, leading to a fate that's as surprising for the character as it is earned. As one can see, where both Monroe Fuches and Stephen Root are concerned, there's a lot more than meets the eye.
Read this next: The Best TV Shows Of 2022, Ranked
The post Bill Hader Wanted Stephen Root To Be A Sexy Raven In Barry Season 4 [Exclusive] appeared first on /Film.