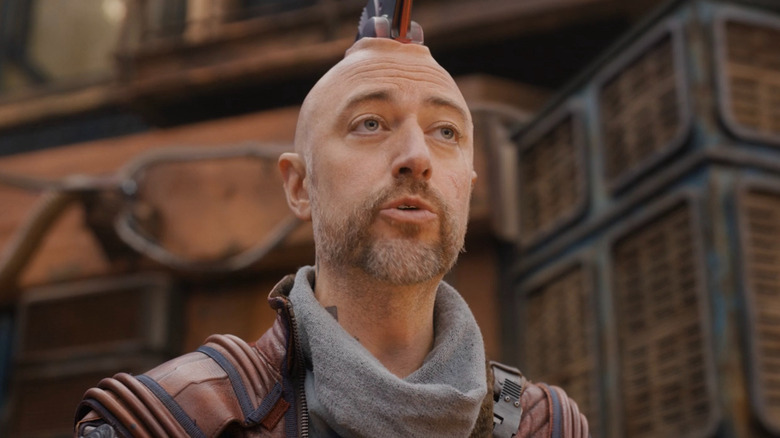 This post contains spoilers for "Guardians of the Galaxy Vol. 2" and "Vol. 3."
Even before Kraglin became a more prominent "Guardians of the Galaxy" character, Sean Gunn was an integral part of the movies. While Bradley Cooper continues to provide the well-known voice of Rocket Raccoon, Gunn has served as the on-set Rocket through motion capture since the first "Guardians" film in 2014. After six movies — including two "Avengers" crossovers and "Thor: Love and Thunder" — and one Disney+ holiday special, Gunn has seen it all. In "Guardians of the Galaxy Vol. 3," he gives a dual performance as Kraglin and Rocket, the latter of whom has such a beefed-up role that we've argued he, not Star-Lord (Chris Pratt), is the real lead, and heart of the movie.
When asked what his proudest Marvel Cinematic Universe moment was, Gunn — who is also the brother of "Guardians" trilogy writer-director James Gunn — chose a non-Rocket scene, however. Speaking to ComicBookMovie.com, Gunn said: "As an actor, the moment I'm most proud of is probably Kraglin's response to the Ravager funeral at the end of the second movie. It's my favorite thing to go back and watch and see what I've done."
The scene in question comes after Yondu (Michael Rooker) has died and Star-Lord / Peter Quill has given Kraglin the whistle-activated Yaka Arrow that was once Yondu's signature weapon. For his part, Kraglin gives Quill a Zune player that can carry 300 songs, which is a big step up from his old cassette player. Then, the Ravagers arrive to give Yondu a big fireworks send-off in space. Upon seeing them through the ship's porthole, Kraglin tears up and yells, "Yeah!"
'It's Just Some Unspoken Thing'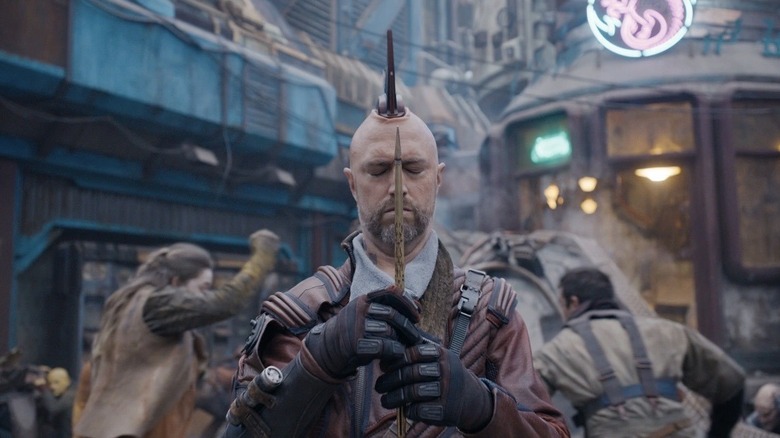 It's not surprising that Sean Gunn would choose Kraglin's reaction to the Ravager funeral at the end of "Guardians of the Galaxy Vol. 2" as his favorite MCU moment. The scene is an emotional one that's directly preceded by a passing of the baton from Yondu to Kraglin, allowing Gunn to come into his own more as a cast member who actually gets face time — not to mention a speaking part — as opposed to just toiling away unseen and unheard in a motion-capture suit behind-the-scenes. When Gamora (Zoe Saldaña) says, "It's just some unspoken thing," to Peter Quill, she could just as easily be talking about Gunn's unsung mo-cap performance as Rocket Racoon.
One slight criticism of "Guardians of the Galaxy Vol. 3" has been that it pulls its punches and includes multiple character death fake-outs — it walks back on them all at the last moment. Yondu's death, by contrast, is one that stuck, though Michael Rooker does come back for a ghostly cameo in "Vol. 3," just long enough to motivate Kraglin and help him master the Yaka Arrow.
In his comments to ComicBookMovie.com, Gunn also shared a moment that was meaningful to him offscreen, back in 2014 when "Guardians of the Galaxy" first premiered:
"There was a moment when we were on the red carpet when the first movie was coming out. Hollywood Boulevard was shut down, the fans were going nuts, and it was the premiere of the first movie. James [Gunn] walked up to me and whispered in my ear, 'I think we pulled it off.' That's personally a moment I'll always really treasure."
"Guardians of the Galaxy Vol. 3" is in theaters now.
Read this next: R-Rated MCU Scenes We Never Got To See In The Original Cut
The post Sean Gunn's Proudest Guardians of the Galaxy Moment Didn't Involve Rocket Raccoon appeared first on /Film.