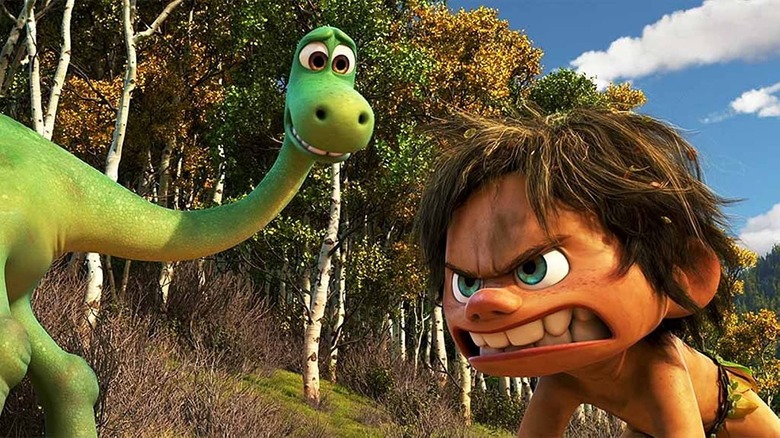 The last few years of Pixar have been rather dispiriting. I don't mean this in terms of quality. Far from it. "Soul," "Turning Red," and "Luca" have ranged from good to great, continuing to show a studio brimming with imagination as newer voices come into the mix. When I say they have been dispiriting, I mean it from a business sense, as under the Bob Chapek regime of Disney the company was relegated to a being a content farm for Disney+. Every year, a Pixar movie was an event, and because nothing can become an event on a streaming service, Pixar's specialness has wasted away. Their first film back in theaters was "Lightyear" and it was a financial disaster. They have "Elemental" releasing this June, and the early box office tracking for it isn't promising.
For over 20 years, Pixar dominated the box office. Even as the Hollywood film landscape became more and more reliant on franchises and intellectual property, they remained one of the few studios able to make original films that brought in absurd amounts of money, like "Inside Out" and "Coco." And when they decided to make sequels and prequels, those movies would also regularly cross or come close to reaching the $1 billion mark. There was nary a crack in the armor … except one film; a film whose financial troubles are only outdone by the troubles that occurred in the making of the actual film. I'm talking, of course, about Pixar's forgotten 2015 film "The Good Dinosaur."
When you produce movies that regularly make $800+ million, a film that comes in at $332 million worldwide doesn't feel good, which is where "The Good Dinosaur" ended up. For most movies, this would be a thrilling success, but Pixar doesn't make their films on a tight budget.
Animation Is Expensive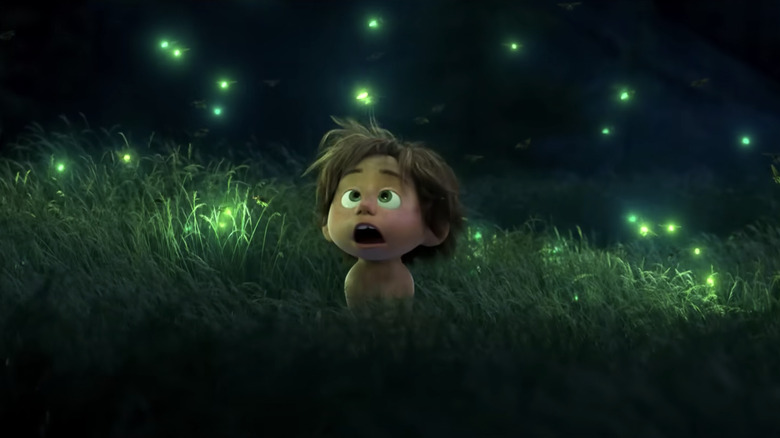 We hear a lot of stories about film budgets ballooning and it's not just the extreme examples like James Cameron's "Avatar" movies (see also: his claim that "The Way of Water" needed to make $2 billion to break even). Studios pump these blockbuster hopefuls full of cash, thinking that the only way to make $1 billion is to spend $200-300 million. And when they don't? We lambast them for spending so much, be it on DC films like "Black Adam" and "Shazam! Fury of the Gods," or Disney tentpoles like "John Carter" and "The Lone Ranger."
Animation rarely gets this kind of blowback and I think that's because it's a lot easier to quantify what is on screen in a live-action blockbuster. However, Pixar films almost always cost somewhere in the range of $175-200 million. As they make the movie over the course of years, they are constantly changing the story, the characters, and the scenes, all the while developing new technologies to accomplish new things visually. The spending adds up.
In the case of "The Good Dinosaur," the spending really got out of control thanks to all the turmoil that transpired behind the scenes. Originally, the film was set to come out Thanksgiving 2013 and was to be directed by Pixar veteran Bob Peterson. During the film's development, however, Peterson was taken off of the project and replaced by Pixar animator Peter Sohn due to story disagreements, cast members were replaced, and the story was completely overhauled. Ultimately, this pushed the film back a full two years. Not only did this balloon the budget, but it signaled that maybe "The Good Dinosaur" wasn't going to be the pristine package that most of Pixar's other films are.
Two Movies In One Year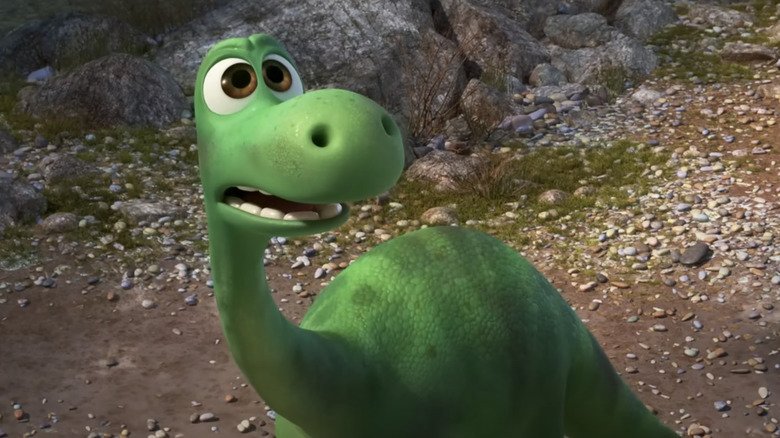 One benefit to animation taking so long to make is that you can't just crank out product and oversaturate the market. Pixar would deliver one film a year and because it was the only one, it could be an event. More often than not, it would come out the third week of June. Then, at Thanksgiving, we would get a new film from Walt Disney Animation Studios. Take 2010, where "Toy Story 3" came out on June 18, followed by "Tangled" on November 24.
This was not the case in 2015. Disney decided to test the waters and release two Pixar films that year, with "Inside Out" in the customary June slot and "The Good Dinosaur" at Thanksgiving. As we all know, "Inside Out" became quite the sensation. It grossed over $850 million and was beloved by critics and audiences alike, going on to win the Oscar for Best Animated Feature. "The Good Dinosaur" had to contend with being released in the shadow of all that hullaballoo.
What doesn't help is that the film, to be frank, isn't very good. Not only are the characters not all that memorable — in both design and behavior — but the patchwork nature of the story ends up flattening out into something extremely familiar and uninspired. Comparing that to a film that looks to examine the complicated interconnectedness of human emotion does "The Good Dinosaur" no favors. The moviegoing public had their Pixar fill for the year and were completely satisfied. They didn't need "The Good Dinosaur."
Two years later, Pixar would again try the two-film release strategy and the results were flipped. "Cars 3" came out in June and disappointed in a big way, and they rebounded at Thanksgiving with "Coco." Stacking the calendar isn't the way to go.
Lessening Pixar's Importance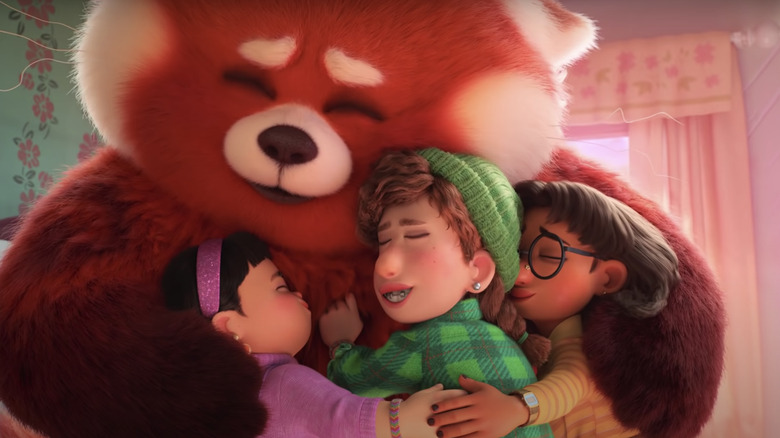 Pixar would subsequently release two films in the same year twice more, but the results of how well they did may never be known. You had "Onward" release on March 6, 2020, which was the first time a Pixar film came out that early in the year. It wasn't poised to make a huge splash, but we'll never really know because you eagle-eyed readers may realize it came out just a few days before the entire world shut down because of COVID-19. Then, on Christmas Day, amid the pandemic, they dropped "Soul" on Disney+, which we all thought would be a one-off release because theaters weren't open. Except, on June 21, 2021, their regular release spot, they put out "Luca." But not in theaters. That, too, makes its way directly to Disney+.
2022 saw them release two films yet again, with the first being "Turning Red" trying out the same March slot "Onward" did. It was set to be released in theaters. I saw the trailer for it so many times before other movies. But the spread of the Omicron variant sent Disney into panic mode and they just decided to move it over to Disney+ once again. All of these movies were well-received, but we only have a rough idea of how many people watched them and whether they made any kind of an impact. It started to seem like Pixar was just a streaming company now and nobody needed to leave their houses for their latest.
They finally released "Lightyear" in theaters on June 17, 2022, and it completely tanked. Was "Turning Red" enough of a Pixar fix for people, or did they just want to wait until "Lightyear" was on Disney+? We'll never really know. What we do know is Pixar is in a tough spot right now.
Every Studio Is Fallible, Even Disney
For several years, it looked like Disney were the world beaters. Along with their own live-action and animated work, they had acquired Pixar, Marvel, Lucasfilm, and 20th Century Fox. They had a reach across the film industry that was fairly unparalleled and could rake in all the cash they could dream about. With these brands and franchises, the money well was endless. As it turns out, not everything they make is a surefire hit.
We've seen the decline in box office for the Marvel Cinematic Universe. "Star Wars" can be inconsistent. With their over-reliance on streaming the last few years, it's been a struggle for them to regain their theatrical audience, as the tanking of "Strange World" indicates. Sure, they still have big hits, like "Guardians of the Galaxy Vol. 3," but just because something is released by Disney doesn't mean it's a surefire blockbuster.
Through its troubled production and multiple postponements, Disney still believed "The Good Dinosaur" would clean up at the Thanksgiving holiday box office in 2015. "Frozen" had made over a billion dollars in that slot two years earlier. Pixar was riding high off of "Inside Out." It didn't work. Ultimately, the movie business will always be a game of risk and chance, and this time, it didn't pay off. It would be nice if the answer was just that "The Good Dinosaur" wasn't good enough, and to an extent, that is true. Being good helps bring in repeat viewers. But it goes to show you that "A Pixar movie about dinosaurs" isn't exactly enough to make a bona fide smash. If it were that easy, we'd all be Hollywood executives.
Read this next: The 20 Most Underrated Disney Movies You Need To See
The post How The Good Dinosaur Became Pixar's First Bona Fide Box Office Flop appeared first on /Film.