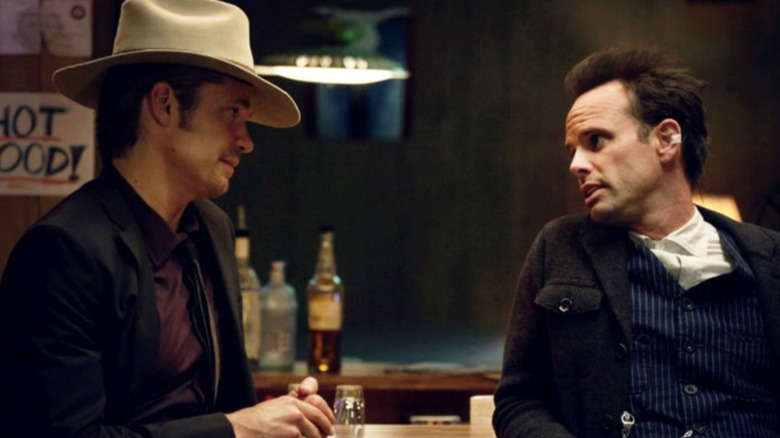 Through six seasons exploring the thin line between law enforcement and the criminals they chase, FX's "Justified" introduced a handful of villains for U.S. Marshal Raylan Givens (Timothy Olyphant) to hunt down across the rough-and-tumble Kentucky landscape. Memorable turns by Margo Martindale as the whip-smart bootlegger Mags Bennett and Michael Rapaport as the conniving, drug-dealing Daryl Crowe Jr. helped populate the series with threatening characters that always wound up being much more clever than you might expect. Sam Elliott also made a rare turn as the legendary gangster Avery Markham in the final season. Eight new episodes are on the horizon with the upcoming "Justified: Prime Evil," which will see Raylan testing his old cowboy ways in the city of Detroit, where he will be pitted against a new adversary known as "The Oklahoma Wildman" (Boyd Holbrook).
Raylan's true nemesis, however, will always be Boyd Crowder, a redeemed bank robber and white supremacist who becomes a more conscientious criminal who tried to walk the straight and narrow path whenever he could. Played beautifully by Walton Goggins, Boyd exemplified the grey area of the show where morality sometimes took a backseat to a money-making opportunity that was too good to pass up, no matter which side of the law it was on.
Originally helming from the state of Georgia, Goggins was a little reluctant initially about accepting the role of Boyd out of fear that the character would be a surface-level depiction of a typical Southerner. Luckily, "Justified" creator Graham Yost added some much-needed nuance to flesh out and humanize complex characters like Crowder. Olyphant had already known Goggins for years when casting was underway for the first season, and ultimately, he was the one that convinced Goggins to take the plunge.
Adding The X Factor To A Delicate Role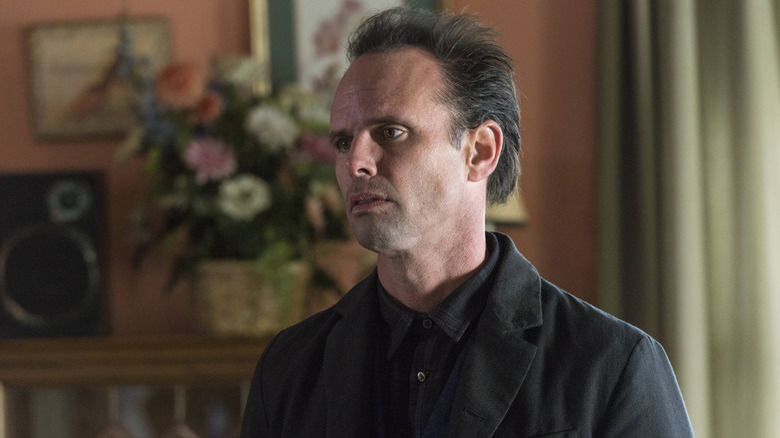 At the start of the sixth season, Olyphant told Rolling Stone that he realized there was something unique about Goggins that would make him stand out as Boyd and make all the other actors around him better. Per the star:
"He's from the region so he was sensitive about putting that out there in a one-dimensional way. You know, a lot of actors, we aren't that special. You get a well-written scene, and it's virtually actor-proof. But during the casting process, we had a list of people we had in mind for Boyd and the more I looked at his name on that list, the more I kept telling everyone involved, 'Look, I stand corrected. I've been saying anyone could do it, but we really need to get this specific guy to play Boyd. He'll bring something special to it.'"
In another actor's hands, Boyd Crowder's redemptive arc on "Justified" may have been painted with too broad a brush and may have fallen into caricature. For all the deplorable behavior he exhibits before coming out the other side as a more reformed, level-headed criminal, Goggins still managed to make Boyd inherently likable. In Quentin Tarantino's "The Hateful Eight," he was afforded that opportunity once again as racist sheriff Chris Mannix who ends up in a highly unlikely team-up with Samuel L. Jackson's Major Marquis Warren in the film's frozen, blood-soaked climax.
Olyphant had high praise for Goggins as the final episodes of season six got underway, adding, "He makes everybody better just by being around him." With any luck, we'll see them share the screen together again in some capacity. Seeing how both actors have appeared in a Tarantino film, maybe they could fit somewhere into the director's 10th and final film, "The Film Critic," which reportedly takes place in late '70s Los Angeles.
Read this next: The 18 Best Crime Dramas In TV History
The post Timothy Olyphant Had To Convince Walton Goggins To Take The Job Of Boyd In Justified appeared first on /Film.