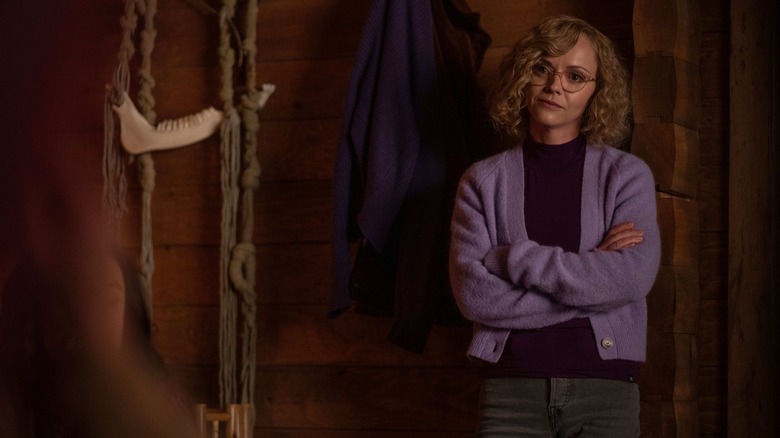 This post contains spoilers for "Yellowjackets."
Season 2 of "Yellowjackets" is over and though it wasn't always paced to my liking, the last three episodes bowled me over. I think the season demonstrates how, for good or ill, character and structure are intertwined in storytelling. What made the 2021 storyline of "Yellowjackets" season 1 good was the characters. In the present day, there's less urgency and sustained mystery than in the 1996 wilderness storyline. So the characters' interactions, and all the intrigue and black comedy carried within them, were what sustained interest.
Watching the Yellowjackets plotting to find out who's blackmailing them or covering up the murder of Adam (Peter Gadiot) was just as exciting as seeing their teenage selves struggle to survive. The debut season's highlight was Misty following Natalie around like a poodle desperate for love — the manic Christina Ricci and dour Juliette Lewis was the salt-and-pepper, '90s screen queen pairing I never knew I needed. Unfortunately, season 2 spends the first two-thirds with these four all shuffled off in separate storylines.
Keeping The Band Together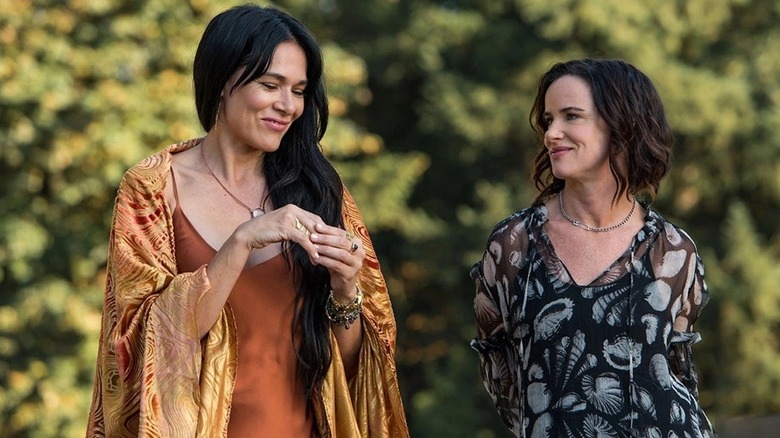 Let's tally the storylines of "Yellowjackets" season 2, episodes 1-6. Shauna (Melanie Lynskey) is dealing with the fallout of Adam's murder and it starts affecting her family. Taissa (Tawny Cypress) is struggling with her mental health/dark visions and this eventually leads her back to Van (Lauren Ambrose). After being abducted, Natalie hangs around the self-care compound run by her old "friend" Lottie (Simone Kessell). Misty, the citizen detective that she is, investigates Natalie's disappearance alongside Walter (Elijah Wood).
Each woman has not only their own storyline but their own supporting cast. That's not to say those supporting casts are bad — I'm always down for more of Shauna and her dopey but well-meaning husband Jeff (Warren Kole). However, this results in a less cohesive series — no story takes primacy over the others and so the episodes blend together. The reason "Yellowjackets" season 2 took a while to get going is that I couldn't discern its destination.
Thankfully, episode 6 ended with the adult survivors all reunited at Lottie's compound and the season found its footing; episodes 7, 8, and 9 are the strongest of this batch. There was just one story to follow and those devilishly fun character interactions came back. My personal favorite, episode 8 "It Chooses," was even about the Yellowjackets getting each other up to speed on what's happened in their corners of the story. Instead of just exposition, this felt like a culmination and the threads finally wove together.
When the "Yellowjackets" writers' room reassembles to plot out season 3, I hope they keep their chess pieces closer together on the board. This will not only give their lead cast more opportunities to bounce off each other like we all know they can but also result in a more compact, satisfying story.
"Yellowjackets" is streaming on Paramount+ and Showtime.
Read this next: Shows To Watch If You Miss Yellowjackets
The post Yellowjackets Is Best When The Leads Are Together appeared first on /Film.