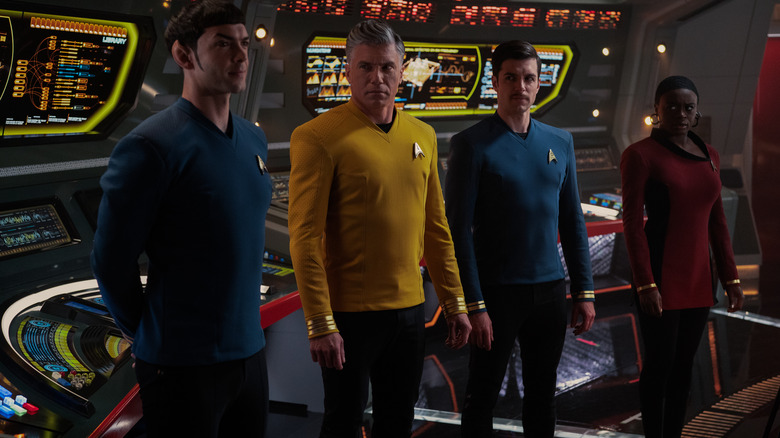 Trekkies are a nerdy bunch, to say the least. From obsessing over all the different kinds of starships on display to instantly recalling the specific episodes featuring some of the most obscure side characters in the entire canon, fans know full well how the "Star Trek" franchise practically rewards us for having an encyclopedic knowledge of decades of lore. That impressive attention to detail went up a couple of notches with the release of "Strange New Worlds," the spin-off series from "Star Trek: Discovery" charting the adventures of Captain Christopher Pike (Anson Mount), his science officer Spock (Ethan Peck), and the rest of the Enterprise crew.
Those who followed along with /Film's coverage of the acclaimed season 1 know that we simply couldn't enough of the impressively (and consistently) well-written episodes and the deft character work carried throughout the entire arc of the story. But as much as the show went out of its way to appeal to newcomers, many of whom had little to no attachment to the large swath of "Trek" media over the years, there was plenty of deep cuts for longtime Trekkies to enjoy. With season 2 set to debut on Paramount+ next month, /Film had the opportunity to sit down with the show's costume designer to talk about some of the highlights and hidden references from the debut season.
One such episode that best displayed what Croft had to offer came with "The Elysian Kingdom," which catapulted our usually stoic crew into a fantasy dreamland straight out of your local renaissance fair. Given the time and space to truly wild out with some of the most imaginative costumes we've ever seen in all of "Trek," the entire creative team embraced their inner nerd to incredibly fun results. Here's how.
'We Love To Incorporate Little Special Key Features For The Audience'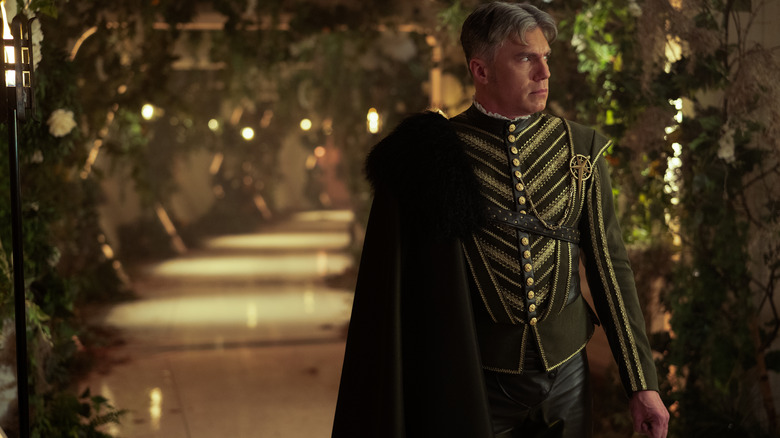 What actor doesn't dream of joining a brand as renowned as "Star Trek," embodying some of the most famous characters in all of fiction, and showing up to work on any given day prepared for pulse-pounding phaser fights, philosophical conflicts with extraterrestrial species, or have an excuse to portray gloriously silly fantasy archetypes while playing them completely straight? That's the benefit "Trek" has over most other properties, which is a key facet that "Strange New Worlds" took full advantage of in episode 8, "The Elysian Kingdom." In an interview conducted by /Film's Vanessa Armstrong, costume designer Bernadette Croft talked about the joys of letting loose with such a fantastical episode.
That mostly applies to Pike, suddenly taking the form of the tawdry and ostentatious court chamberlain. Draped in green fabric, Croft revealed that this was a subtle callback to the green tunic worn by William Shatner's Captain James T. Kirk in "The Original Series." According to Croft:
"Pike's fantasy character was this weak, conniving Sir Armand Roth, so it was just so funny to see Anson Mount's portrayal of that. I chose a green fabric for his doublet, which was a subtle nod to the green-wrapped tunic. He also wore a pin that represented that he was the king's advisor and First Hand. This star motif is actually the Starfleet command symbol just turned upside down. It's little moments like that [where] we love to incorporate little special key features for the audience."
That's far from the only nerdy reference this episode contains, which speaks to the amount of care each level of production put into every hour of "Strange New Worlds." There's no telling what other fun details await us when season 2 arrives June 15, 2023.
Read this next: Every Star Trek Series Ranked From Worst To Best
The post Secret Callbacks Embedded in Star Trek: Strange New Worlds' Costume Designs [Exclusive] appeared first on /Film.