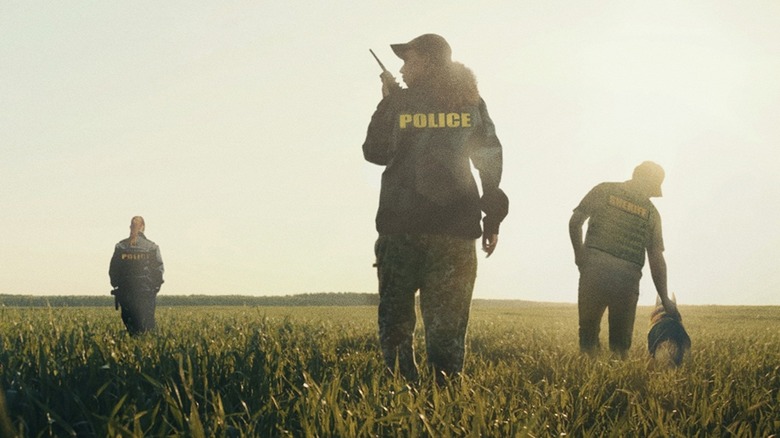 From "Making a Murderer," to the trend-setting "Tiger King," to the 2020 revival of "Unsolved Mysteries" (and its sometimes-questionable relationship with mental health), Netflix has become home to many a true crime documentary series. The latest, "Missing: Dead or Alive?," hit the streamer earlier this month, and it's been burning up the Netflix Top 10 recently with an approach that's more cinematic — though whether that pays off is another question entirely.
According to Netflix's own stats, the series was watched for a total of 15.29 million hours during the week of May 15-May 21,2023. To give a bit more context to that otherwise largely useless metric, there are four episodes in total with a runtime of 3 hours, so if everyone who watched the series saw it through to the end, that means "Missing: Dead Or Alive" has been viewed by at least 5 million people.
The official synopsis for "Missing: Dead or Alive?" explains that it centers on "officers from a South Carolina sheriff's department as they urgently search for individuals who've disappeared under troubling circumstances." The investigative series follows these three Richland County officers "as they search for people in the immediate aftermath of their disappearances." This gives the docuseries the aspect of a ticking-time-bomb scenario, per Hollywood convention, since "the immediate aftermath" here entails the crucial first 24 to 48 hours in a kidnapping case.
The difference is: these cases are real.
Watch The Trailer For Missing: Dead Or Alive
It's the music in this trailer that really distinguishes "Missing: Dead or Alive?" as a series with cinematic aspirations. The first part of it, those droning horns (or whatever they are), almost sounds like something you would hear in a thriller rather than a documentary. It's somewhat reminiscent of "The Beast," a track from the late Jóhann Jóhannsson's "Sicario" soundtrack, though there are any number of other comparisons you might make.
As the strings kick in and we actually see a ticking clock on the wall, you can feel the editing play up the drama, with real-life investigator JP Smith exhorting, "Every second that passes, this child is suffering," and, "You don't run because you are right, you run because you are wrong!" It's all a bit stagey, and feels a little exploitative when you remember that these are real missing persons, but that goes with the territory of reality TV and true crime. Just last week, the genre made the news when a case featured on "Unsolved Mysteries" was solved with the show's help (via USA Today), so bringing more public exposure to these cases sometimes does yield useful results beyond entertaining binge-watchers.
There aren't many critical reviews out there for "Missing: Dead or Alive?" yet, though Decider has a positive one that compares the series to "a cross between 'Cops' and a CBS procedural series like 'Criminal Minds,' noting that "it plays out more like a scripted drama" at times. The flip side of that is the audience score on Rotten Tomatoes, which currently sits at 49%, suggesting that while enough people are watching the series to put it in Netflix's Top 10, not everyone is satisfied with the viewing experience.
"Missing: Dead or Alive?" is now streaming on Netflix.
Read this next: The 18 Best Crime Dramas In TV History
The post The Cinematic True Crime Doc Series That Has Landed in Netflix's Top 10 appeared first on /Film.