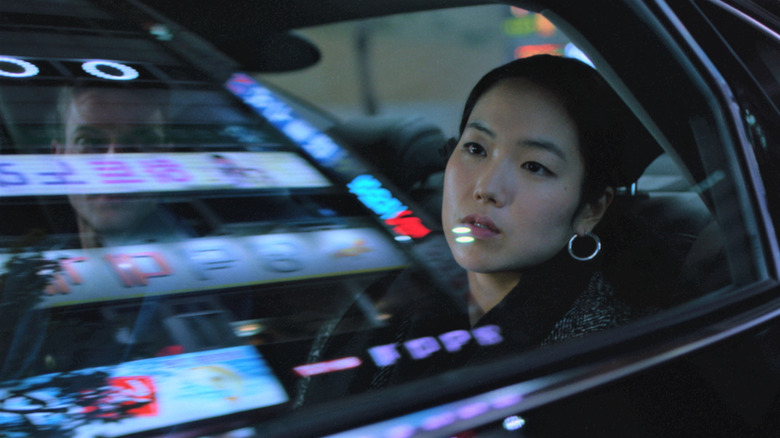 (Welcome to Under the Radar, a column where we spotlight specific movies, shows, trends, performances, or scenes that caught our eye and deserved more attention … but otherwise flew under the radar. In this edition: "Return to Seoul" makes its case for Best Actress, "Broker" offers some perspective, and "All That Breathes" reminds us never to underestimate the narrative power of documentaries.)
As much as some may roll their eyes at the pomp and circumstance of awards season, the end of February and the beginning of Oscars March Madness makes it feel even sillier for cynics to pretend like the Academy Awards and other buzzy awards shows don't really matter. All throughout the last month, nine of the 10 Best Picture nominees were playing in theaters nationwide (the tenth, of course, was only absent because it's distributed by Netflix), giving audiences a chance to experience the highlights of 2022's cinematic "canon" for themselves. And you know what? It paid off.
Far too many movies and performances and talent were inexplicably snubbed, of course, but that's also a big reason why this column exists in the first place. No institution will ever be perfect, and that goes double for one as established and intrinsically biased as the Academy of Motion Picture Arts and Sciences. (Yes, we're still mad about "Decision to Leave" getting left out in the cold entirely.) That's exactly why audiences ought to use the Oscars as a jumping-off point … not the final say altogether.
So, in this edition of "Under the Radar," we're prepping for the Oscars with Cambodia's shortlisted entry for Best International Feature Film "Return to Seoul," the South Korean drama "Broker," and Best Documentary nominee "All That Breathes."
Park Ji-Min Delivers An Oscar-Worthy Performance In Return To Seoul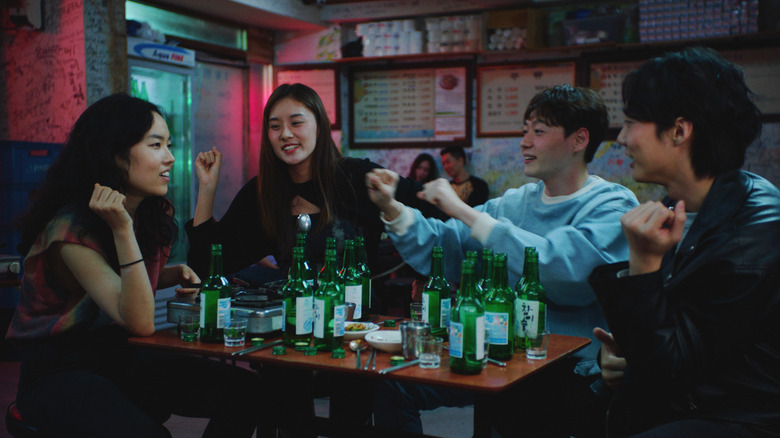 Cambodian-French writer and director Davy Chou's "Return to Seoul" (you can read /Film's review by Hoai-Tran Bui here) offers a deep, challenging, and oftentimes unflinching look at the fraught emotions of adoptees of color who were relocated from countries like South Korea and placed in faraway white households as children. While the tightly-wound screenplay fires on all cylinders, however, it's the lead performance by Park Ji-Min as Freddie Benoit that deserves to be singled out and held up as a major reason why this movie hits as hard as it does. The fact that this is the actor's feature film debut only makes this accomplishment all the more notable.
As a stubbornly French-identifying citizen with all the freewheeling, carefree charm inherent of that culture, Freddie nonetheless feels torn between two worlds as she's impulsively drawn back to her country of origin for the first time. Though everyone assumes she's eager to finally meet her biological parents, she maintains her agnosticism about plunging too deeply into her own past. Her actions and subtly fracturing psyche, however, paint a dramatically different picture. When she meets her guilt-ridden father (Oh Kwang-rok), his overtures only push her further away. But one look at Park's icy yet expressive face gives us all the insights we need into her inner turmoil. Never flashy and rarely given lengthy monologues spelling out what she's feeling deep within, it's left to the actor to carry us through an impossibly complex arc that leads the character to some incredibly surprising places.
No matter how far she is from home or how many years pass, Park's alternately flinty and fiery performance provides the anchor that ties together every far-flung element of "Return to Seoul."
Perspective Is Everything In Broker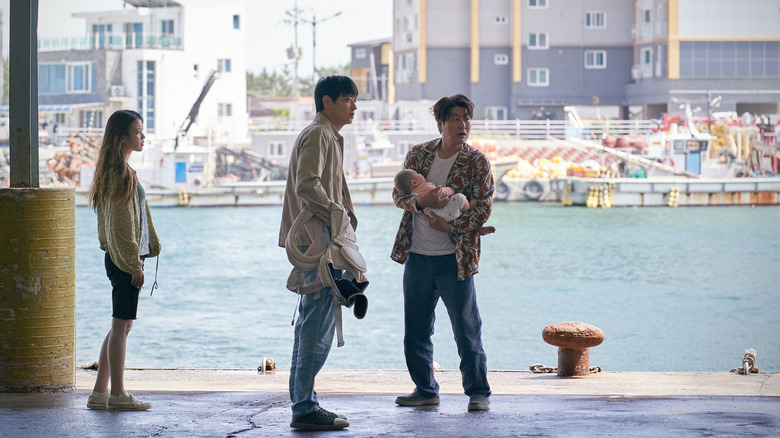 Stop me if you've heard this one before: a critically acclaimed South Korean movie originally released in December of 2022 centers its story on adoptive children and the trauma their parents experience in the process. That's where the similarities end between "Return to Seoul" and "Broker," the film written and directed by Japanese filmmaker Hirokazu Kore-eda. In every way that matters beyond its most basic premise, "Broker" takes a wildly different tonal and thematic route to telling its story — one that takes a much different perspective on a vaguely similar concept.
The film (read our review by Rafael Motamayor here) follows a pair of friends with very different and very personal reasons for their involvement in what can only be called an illegal human trafficking operation. As sinister as that may sound, both Ha Sang-hyeon (Song Kang-ho, as sympathetic yet complicated as ever) and Dong-soo (a tremendous, if understated Gang Dong-won) have nothing but the best of intentions — or so they tell themselves, at least — when finding trustworthy parents to sell these abandoned infants to after being left at a local church. When the young mother (Lee Ji-eun as the tenacious Moon So-young) of the latest abandoned baby actually returns and gets mixed up with these two bumbling and ineffectual brokers with two dogged police detectives hot on their heels, what follows is a surprisingly light, frequently funny, yet devastatingly poignant drama about the least conventional of found families learning to lower their guards just a bit to catch a glimpse of something worth holding onto.
As tensions mount and perspectives continually shift, viewers are challenged every step of the way to let go of easy answers to an impossible situation and embrace the intrinsic messiness of life.
All That Breathes Reminds Us To Look Up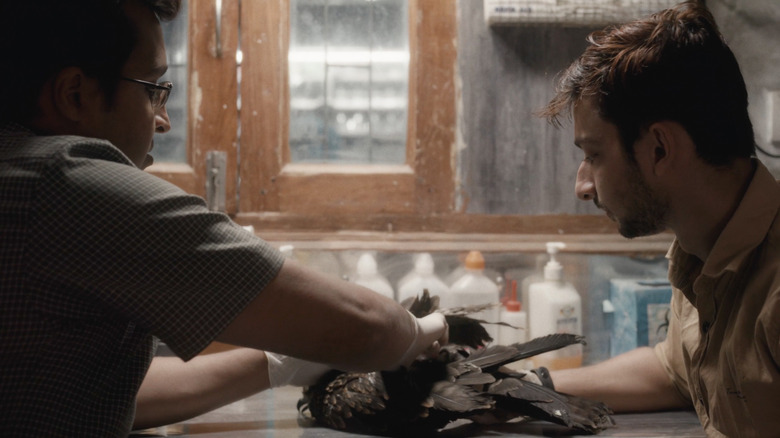 Full disclosure: I went into "All That Breathes" (reviewed here for /Film by Caroline Cao) knowing nothing about it and it took an embarrassing amount of time before I realized that this was actually a documentary — not a fictional narrative. That's how instantly engrossing and expertly filmed this Hindi-language true story is, focusing on two Indian brothers in Delhi, Nadeem Shehzad and Mohammad Saud, who run a makeshift animal clinic essentially out of their garage to nurse wounded and dying birds of prey back to health.
Working in such close quarters and with such low resources means the two frequently butt heads in the heat of the moment, but both know the true source of their misgivings. Their emergency services are only needed in the first place because of the dire air quality problems in the bustling Indian city, causing Black Kites to plunge from the skies on a regular basis. Compared to the gargantuan environmental issues in the sub-continent and the vitriolic political unrest serving as a backdrop, their tireless efforts would ordinarily feel swallowed up by much more pressing concerns. Luckily, these two caught the eye of director Shaunak Sen, who lends a brilliantly detached lens to the documentary that (mostly) steers clear of sensationalizing such important, ground-level work.
Much of the film emphasizes the connection between rampant urbanization and the natural world oftentimes scurrying by on the outskirts of our invasive human presence. As we watch the brothers navigate polluted floodwaters, provide for their families, apply for grants, and chase their own personal dreams, it transforms from a documentary about birds to a plea to step back, look around, and take stock of our collective impact on the world.
"All That Breathes" is currently streaming on HBO Max.
Read this next: The 15 Best Korean Directors Of All Time
The post Under The Radar: Prep For The Oscars With Return To Seoul, All That Breathes, And More February Highlights appeared first on /Film.