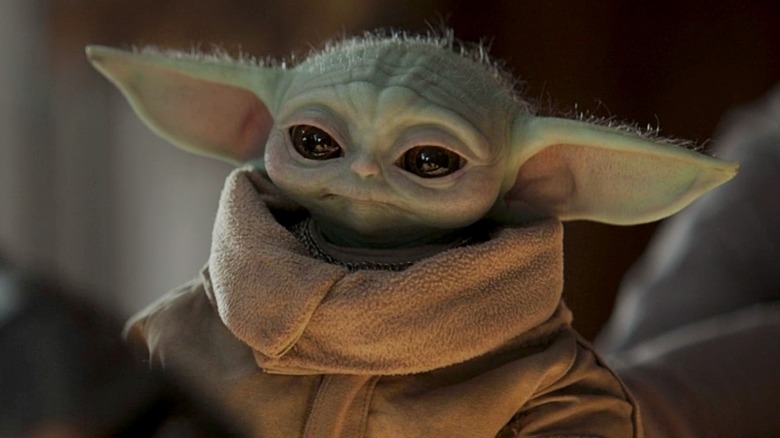 Since its inception, the "Star Wars" franchise has become known for a variety of cosmic traits, from intergalactic politics to anti-fascist space samurai. One of the most tried-and-true elements of the "Star Wars" universe from the very beginning, however, is an ever-abundance of cute. The living shag carpet Wookiees, the teddy bear Ewok warriors, porgs, vulptices and even droids like R2-D2 and BB-8 have always brought a soft sensibility to a galaxy far, far away.
"The Mandalorian" introduced one of the cutest "Star Wars" entities in recent memory with Baby Yoda, or rather Grogu, the other half of Mando's lauded clan of two. It's a little ironic, then, that one of the creative decisions behind Grogu's popularity was to actually tone the cuteness down a little, according to a new interview with Jon Favreau. That extra bit of realism made Grogu work better as a character and, ironically, a little bit cuter.
We Would Like To See The Slightly Ugly Baby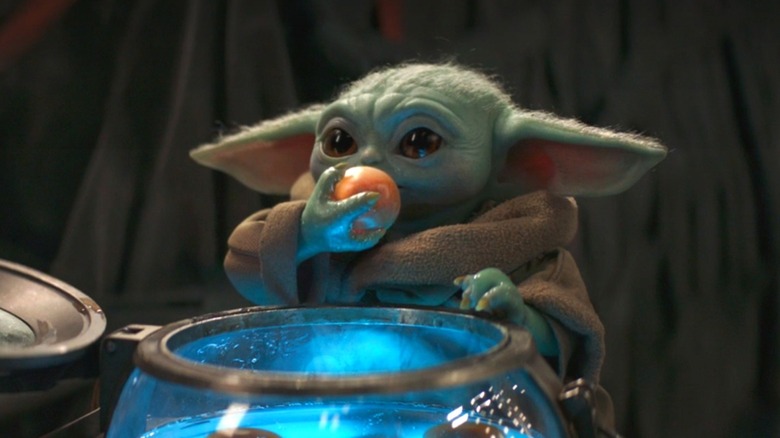 Grogu was a famously guarded secret before his reveal in "The Mandalorian," and the series continued keeping secrets about the super-powered sprite until periodic reveals in future episodes (like his name, backstory, etc). In a StarWars.com interview with Jon Favreau and Dave Filoni, the former noted that he wanted to ensure "the Baby Yoda reveal was very organic to the story," and he was "happy that [everyone] supported us keeping that a secret," thus preserving the surprise until the show's premiere.
Grogu went through many designs, but as it surprisingly turns out, the secret to their design success was to dial the intended cuteness down. As Favreau explains, "He's cute, but he's a little ugly. He's ugly-cute." The character isn't a sterilized, cutesy object, but a complex young character, a member of a rare "Star Wars" species with a powerful pedigree. Keeping these details, to Favreau, are the secret to Grogu's cultural impact. As he explains:
"He's adorable because he's not perfect. He's got the cheeks, but he's got like weird little pointy teeth and he's got weird peach fuzz. In our design, when he looked too cute, he didn't look right. We found that right balance."
The balance must be right, because Grogu's fame spread like internet wildfire after his "The Mandalorian" debut. Like Werner Herzog's character The Client in the show's first season, everyone "would like to see the baby," and like Herzog himself, Grogu's so cute he makes us cry (if only a little).
Read this next: The Biggest Questions The Mandalorian Season 3 Needs To Answer
The post Jon Favreau Knew The Mandalorian's Grogu Had To Be Kind of Ugly appeared first on /Film.