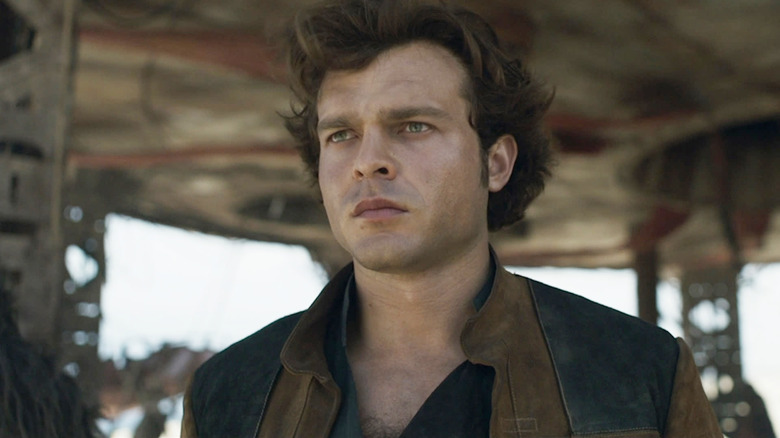 Phil Lord and Chris Miller have made their careers out of tackling "bad" ideas, as they pair would gladly — and only half-jokingly — tell you. Rebooting the '80s TV procedural curiosity "21 Jump Street" as an action-comedy movie? Turning the LEGO toy brand into a genre-mixing, franchise-blending cinematic universe? Bringing together characters as tonally removed as Miles Morales, Spider-Man Noir, and Peter Porker for a superhero multiverse film that dabbles in experimental animation techniques? All ideas that could've easily gone terribly wrong and yet, under Lord and Miller's watch, they gave rise to hugely successful and even game-changing movies.
Every rule has at least one exception, though, and for Lord and Miller, it's "Solo: A Star Wars Story." The pair were notoriously several months into production on the Han Solo origin movie when they parted ways with Lucasfilm over creative differences … or they were fired, it kind of depends on how you look at it (and who's telling the story). Either way, it was a useful learning experience that will inform the pair's return to the sci-fi genre with their upcoming film "Project Hail Mary."
In an extensive piece on Lord and Miller's previous accomplishments and future endeavors, The Hollywood Reporter confirmed "Project Hail Mary" (which was first announced back in early 2020) is slated to begin shooting in the UK in early 2024, with Lord and Miller directing. "The ['Solo'] experience clarified what was important to us," said Lord. "In the case of 'Hail Mary,' it's kind of radically benevolent. And it's going to be hard." But would it even be a true Lord and Miller joint if it wasn't?
'Audiences Are Smarter Than You Think'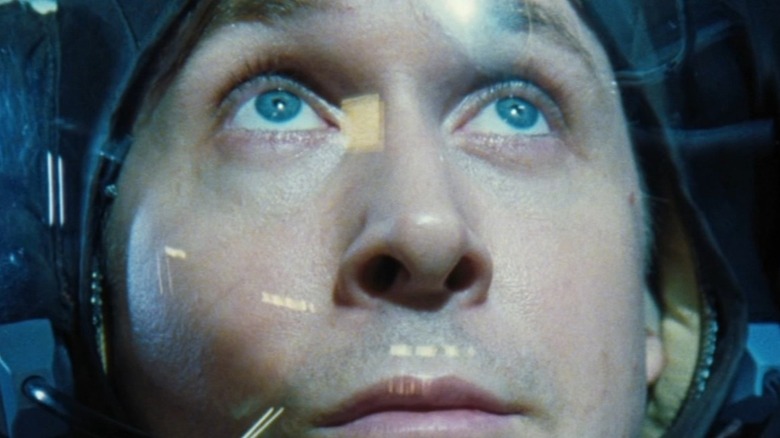 "Project Hail Mary" is based on Andy Weir's novel of the same name and was scripted by Drew Goddard, who also penned Ridley Scott's hit movie adaptation of Weir's book "The Martian." The parallels don't end there: "Hail Mary," like "The Martian," mainly focuses on an astronaut who's far from Earth and in dire straits. Except, here, the spaceman is Ryland Grace (Ryan Gosling), a former middle-school teacher who's left in an amnesiac state by a series of unfortunate events and must piece his memory back together in the middle of a space mission to save humankind. So no pressure?
Assisting Ryland on his journey is an extra-terrestrial who, in a very "Close Encounters of the Third Kind"-style twist, communicates through musical sounds rather than a fully-formed language. "Having one of your main characters have no face and speak through music is a challenge that's crazy enough that we would want to take it on," noted Chris Miller. Adding to that challenge, Weir's original novel has a non-linear structure, intercutting flashbacks to Ryland's past with his experiences aboard the Hail Mary. But Miller isn't concerned about audiences being able to keep up, telling THR:
"When we were doing 'Spider-Verse' the first time, there was a lot of nervousness at the studio that people wouldn't understand the concept and that it would be too confusing. And our attitude was, 'Audiences are smarter than you think.'"
One could argue that's always Miller and Phil Lord's guiding philosophy as filmmakers. They've always trusted viewers will be able to keep up with their movies, whether it's their layered meta-humor or their self-reflexive commentary on the experience of making commercial art. It's good to see the "failure" of "Solo" has only motivated them to double down on that approach.
Read this next: Sci-Fi Movies You Never Realized Were In The Same Universe
The post Lord & Miller's Star Wars Experience Informed Their New Sci-Fi Film, Project Hail Mary appeared first on /Film.